Mookie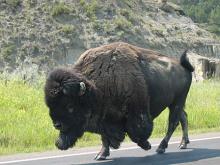 About
A self-described National Park junkie, I whole-heartedly agree with Wallace Stegner's famous statement that the National Parks are "America's best idea". My goal is to visit all 58 parks before I die, and I hope there are many more than that by the time I finish. My outlook on life can best be summed up in the words of Edward Abbey:
Do not burn yourselves out. Be as I am-- a reluctant enthusiast...a part time crusader, a half-hearted fanatic. Save the other half of yourselves and your lives for pleasure and adventure. It is not enough to fight for the land; it is even more important to enjoy it. While you can. While it is still there. So go out there and mess around with your friends, ramble out yonder and explore the forests, encounter the grizz, climb the mountains, and bag the peaks.... and I promise you this much: I promise you this one sweet victory over your enemies, over those deskbound people with their hearts in a safe deposit box... I promise you this: you will outlive the bastards.
Picture
Copyright 2005-2017 - National Parks Traveler
National Parks Traveler is a 501(c)(3) nonprofit media organization.