dwulfman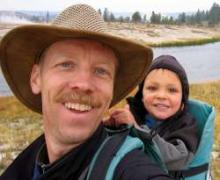 About
In 1995 my wife and I had had enough of being city-bound corporate slaves and decided a big change was in order. We sold our nice home in the 'burbs, bought a little travel trailer, and set off to explore as many of America's spectacular natural places as we could get to in 6 months, or so. 18 months later, we had been to the Arctic Circle, Guatemala, and a whole bunch of places in between, including virtually all of the western National Parks. It was pure bliss.
A few months into that adventure, one thing became very apparent. There were a lot of people out there in NPS-land making a real mess of their summer vacations. Many of them were trying to "see it all" in a week or two, and we found ourselves constantly counseling stressed-out moms and dads, desparate to make the most of their precious time together. Most of them hadn't done their homework (they were too busy working!) and were spending all their time driving from one Park to the next.
From that experience, Tracks & Trails was born. (We had to do *something*. We were broke!) Today, our staff of 10 NPS-junkies carefully coordinates hundreds of National Park vacations each year. Customers start by choosing from one of the itineraries outlined on our website, which range from 3 nights to 3 weeks. Then they work with their Trip Consultant to fine-tune their vacation, adding raft trips, horseback rides, and other optional activities, if they want to. For getting around, we've found that a "hotel room on wheels" is just the ticket for easing city folks into the outdoors. An RV allows families to enjoy many of the same idyllic places as tent campers, only in much greater comfort. It also allows them to cover ground more easily by avoiding the time-consuming ritual of setting up and tearing down all that gear.
Their fat Adventure Kit travel binder contains a comprehensive set of personalized documentation to insure that everything goes as smoothly as possible. They fly or drive to their gateway city (Denver, Vegas, SFO…), pickup their home on wheels, open up the Adventure Kit, and hit the road.
We are thrilled to be exposing the next generation of American voters and taxpayers to the wonders of our National Parks.
Picture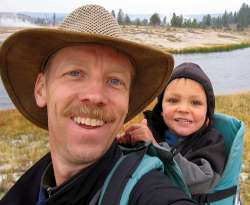 Copyright 2005-2017 - National Parks Traveler
National Parks Traveler is a 501(c)(3) nonprofit media organization.