brettgross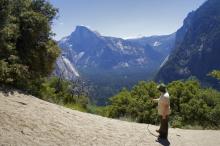 About
A while ago I gave myself the goal of visiting all of the national parks in the NPS system- a goal I share with my wife (which makes things much easier!). It was on our first big parks trip that I found that photography was to become more than a casual hobby for me.
Now we're nearing the halfway mark on our list and I'm excited to be able to share our experiences with everyone.
3 things you should have in your photographer's bag:
Lens cleaning equipment
Tripod (or GorillaPod)
Extra memory cards
Top 3 parks everyone should visit:
Top 3 parks I've visited but didn't even know existed before starting my parks quest:
Conyonlands
Cuyahoga
Congaree
Picture
Copyright 2005-2017 - National Parks Traveler
National Parks Traveler is a 501(c)(3) nonprofit media organization.