Barky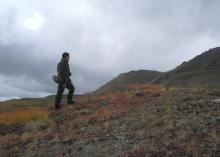 About
I am, quite simply, a National Park System enthusiast and collector. I have visted over 200 of them so far. The parks dovetail quite nicely into two of my interests: American history and the natural world. Having no other qualifications than amateur studies and personal explorations of the NPS, I am posting essays of my observations, experiences, and insights in my own blog, www.americaincontext.com.
Picture
Copyright 2005-2018 - National Parks Traveler
National Parks Traveler is a 501(c)(3) nonprofit media organization.