Yellowstone National Park long has been recognized as being home to the world's greatest collection of geysers and thermal features. Now a natural disaster on the other size of the globe has heightened the significance of Yellowstone's hot water works.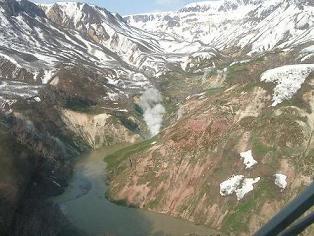 Earlier this month a massive mudslide swept across Russia's Valley of Geysers, burying many of the geysers in the process.
    The slide, which lasted only seconds on 3 June, loosed an estimated 4.5 million cubic metres of rock, gravel, snow and ice. A deluge of material into the Geyser River created a dam the size of 30 football fields, officials estimated. This has since been breached by waters building up behind the dam, clearing some of the valley and allowing at least some of the geysers to spout again, reports nature.com.
     For some photos of this natural disaster, check out Igor Shpilenok's web site.