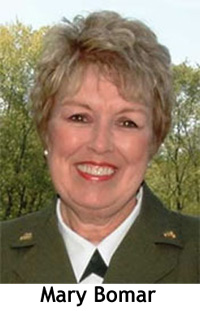 The confirmation process in the United States Senate is an incredible charade, don't you think?
    I mean, members of the Senate Energy and Natural Resources Committee last week generally applauded Mary Bomar's nomination as the next director of the National Park Service, but practically all they had to judge her by was her resume.
    Just as recent nominees to the U.S. Supreme Court shed little on their views during their confirmation hearings, Mary gave us little if any glimpse of how she thinks the Park Service should be run or what changes she might be anticipating.
    She didn't reveal her opinion on snowmobiles in Yellowstone, nor did she suggest ways how the Park Service's maintenance backlog might A) be affecting the parks, even though there's a well-known General Accountability Office report that paints a pretty dire picture, or B) how she might attack the backlog.
    Rather, she told the senators she planned to "stay the course."
    What does that mean? If she plans to walk in Fran's shoes, I'm not sure that's the best thing that could happen to the national park system right now.
    As Senator Pete Domenici, the New Mexico Republican who chairs the committee, put it, "You have done a very good job of not answering the questions."
    When Mary was asked about a report from the Interior Department's inspector general, the one that said the department failed to deal with ethical wrongdoings and conflicts of interest, her response was that, "I will be a leader who demonstrates high ethical standards and promotes transparency in all our activities."
     Well, unfortunately Mary has gotten off on her stint as director without offering any transparency. Now, this might be out of her control, as the Bush administration is well-known for carefully scripting its public dialogue and refusing to address issues head-on. But that shouldn't excuse the senators from neglecting their duty.
    The folks at the Asbury Park Press share my view on this matter when it comes to Mary's confirmation. In an editorial yesterday, the Press hoped Mary would explain her take on plans to turn over a portion of the Gateway National Recreation Area to a private developer because the Park Service can't afford to maintain historic Fort Hancock.
    "Bomar, who has directed the park service's Northeast region for the past 18 months, has promised transparency in her stewardship of the agency. She should start — before she is confirmed — by explaining why the park service has granted James Wassel seven extensions to obtain financing for the project," the newspaper said
    You can find the entire editorial here. 
    Certainly, in light of her recent Park Service role as director of the Northeast Region, Mary should be able to explain the handling of that matter, as well as the controversial plan to divide Independence Square in Philadelphia with a 7-foot-tall fence to protect it from terrorists.
    Now, the Press editorial indicates that Senator Domenici plans to resume Mary's confirmation hearing, with the hope of getting somewhat more specific answers from her. That would be refreshing, but I'm not overly optimistic that we'll see much more of that transparency that Mary talks about. Hopefully I'm wrong.