The visibility the personal watercraft industry garnered for national seashores this week thanks to a House subcommittee hearing gave Yellowstone National Park's contentious snowmobile drama a much-needed media break. And that wasn't an easy thing to do, as Yellowstone officials are hosting open houses to discuss the future of snowmobiling in the park.
    By heading to Congress to question why the National Park Service hasn't quickly dispatched with environmental studies needed to clear the way for PWCs to zoom about five national park units, the Personal Watercraft Industry Association and its supporters reignited the simmering debate into the propriety of PWCs in the national park system.
    It's an interesting debate, one that touches on thrill sports, on the question of why what's right for one national seashore is wrong for another, and the differences between national park "units."
    During Wednesday's hearing by the House Government Reform Subcommittee on Regulatory Affairs, Carl Schneebeck of the Bluewater Network pointed out that the personal watercraft industry likes to align itself with thrill seekers.
    "By design, personal watercraft are fast, powerful machines marketed for speed, adrenaline and thrills. Advertisements for personal watercraft promote them as 'high-performance musclecraft' built for 'those always seeking the next greatest thrill,'" he told the subcommittee. "Other messages from personal watercraft industry advertisements include:
    *'You were once afraid of water. My, how the tables have turned.'
    *'It's enough to make webbed toes curl.'
    *'See those blurred colors streaming by you? That's called scenery. Scenery is for saps.'
    *'They have yet to invent a radar gun that can measure this.'
    *'Hang on and keep telling yourself, 'It's just a leisure activity.'
    *'Next time you see ripples on the water, you'll know why it's trembling.'
    "There is nothing wrong with a thrill ride," Schneebeck added. "But these thrills come at a high price to park resources and impair other visitors' ability to safely enjoy national park areas, as evidenced by a number of studies and reports, including several conducted by the National Park Service itself."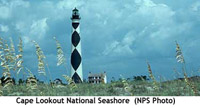 Now, in these sorts of debates you must remember that the NPS counts 390 "units," and only 58 actually carry the "national park" designation. Not all park units were created equal. Some rightly allow activities that are not allowed in others. For example, national recreation areas are part of the national park system, yet many of those permit PWCs, while national preserves, also part of the system, allow hunting and even oil and gas exploration.
    And along those lines, different groups have different interpretations of what they believe constitute permissible, even logical, activities in the various units.
    Of the ten national seashores, some allow hunting, some do not. Some are somewhat heavily developed, such as Cape Cod National Seashore, others are not. Even the managers of these seashores have differing views of what activities should be permitted.
    "At Cape Hatteras National Seashore," Schneebeck told the House subcommittee, "the National Park Service acknowledged that personal watercraft degrade visitor experiences, reporting that prior to the PWC ban, the No. 1 source of visitor complaints was the use of the craft. At Assateague Island National Seashore, park rangers reported witnessing jet skis illegally harassing dolphin pods on 'numerous' occasions, chasing the animals out of 'productive feeding areas.'"
    At Padre Island National Seashore, managers decided against allowing PWCs after conducting an environmental assessment on the question of whether they should be permitted.

    "The no-action alternative is considered the park's preferred alternative as it would best fulfill the park's mission to protect critical natural resources within the seashore as well as ensuring the health and safety of visitors participating in various recreational activities," they wrote in explaining their decision. "Future growth in PWC use could affect colonial waterbird species, sensitive rookery nesting sites, and fragile seagrass beds in the Laguna Madre. On the Gulf side of the seashore, PWC impacts could adversely affect the endangered Kemps Ridley sea turtle. Visitor use concerns include PWC and windsurfing conflicts that occur at Bird Island Basin, recognized as one of the premier windsurfing areas in the country.
    "...There is also concern about potential conflicts between PWC use and visitors swimming, fishing and playing in the surf along the Gulf Coast. Alternative A (to allow PWCs) would also intrude on an important part of the Padre Island beach experience characterized by natural sounds and a place of solitude."
    What intrigues me is how one seashore, Padre Island, could ban PWCs in part because of a concern over their impact on Kemps Ridley sea turtles, and due to potential conflicts with other seashore visitors, not to mention the noise impact, yet Gulf Islands National Seashore, which describes itself in part as containing "snowy-white beaches, sparkling blue waters, fertile coastal marshes and dense maritime forests," and providing "outstanding controlled areas conducive to the successful reintroduction of native threatened and endangered species," as well as being home to Florida manatees and a variety of turtles, including the endangered Kemps Ridley, is ready to lift its PWC ban.
    At one seashore, you have officials dead-set against PWCs not just because they want to preserve their land- and sea- scapes but also to provide for visitors' enjoyment, and at another officials evidently believe their seashore can be all things to all visitors.
    One of the little ironies about the position of Gulf Islands' management team, in light of U.S. Environmental Protection Agency studies that show that 2000-year PWC models can discharge between 3.8 and 4.5 gallons of fuel per hour at full throttle, is mention on their boating web page that boaters must not allow for "gas, oil or toxic chemicals to spill into the water."
    What's the solution? In the case of personal watercraft, it might be something relatively easy, like a blanket ban on the craft at national seashores. Let them play at national recreational areas and anywhere else they choose among the 98 percent of U.S. waters that are open to them.
    One could take a more difficult approach, one that's been suggested previously in these pages by myself and others, which would be to have a committee or commission or simply the NPS leadership sit down with all the various types of units and decide what activities are compatible with what units.
    Suffice it to say, there are no easy answers. That's what led me earlier this month to post about whether we need to Rethink the NPS. It's a timely question.