Are mountain bikes appropriate in every national park?
    That's the main question that will be dissected during the next five years as the International Mountain Bicycling Association and the National Park Service engage in three pilot projects and 12 partnership projects throughout the national park system.
    There already are some parks where you can ride your mountain bike. Canyonlands National Park is famous for its White Rim Trail, which provides a multi-day mountain bike adventure, Yellowstone opens its roads to bikes for a short period in the spring, Mammoth Cave National Park has back-roads open to mountain biking, Cape Cod National Seashore benefits greatly from the Cape Cod Rail Trail, and overall 40-some parks across the country provide some opportunities for mountain bikes.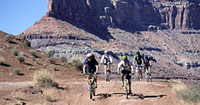 Other parks aren't quite so accommodating, for understandable reasons. After all, not all parks have old dirt roads, such as those found in Canyonlands, that can be turned into mountain bike routes.
    In the coming months and years we'll get a better idea of how well mountain bikes and parks mesh. It's a potentially prickly issue, one I haven't completely sorted out, and one that deserves much study.

    What's prickly about it? Ever walk down a trail that's open to mountain bikers and find yourself leaping out of the way of a biker letting it rip? Erosion's a concern, although that's also an issue with hikers and equestrian trail users.
    And then there's the question of cutting new single-track trails in national parks. Is that the best use of the resource when there already are countless miles of mountain bike trails on other public lands?
    Those questions and more are part of the debate that today's announcement by the IMBA spurs. In their press release, IMBA officials said they would begin mountain-biking pilot projects in Big Bend National Park in Texas, Fort Dupont Park in the District of Columbia, and Cuyahoga Valley National Park in Ohio. Additionally, they said they hope to bring Subaru/IMBA Trail Care Crews to as many as nine national park units this year to offer advice on trail building, trail maintenance, rider education, and how to manage mountain bikes.
    It was last May when the National Park Service signed an agreement with IMBA authorizing a five-year study of allowing mountain bikes in two national parks. (That's right. The original agreement called for just two pilot studies. Somewhere along the way a third was added.)  Back then, IMBA pitched the agreement this way: "For the first time, National Park Service leaders in Washington, D.C., have formally recognized mountain biking as a positive activity, compatible with the values of our national park system."
    Some park advocates worry about just how compatible mountain bikes really are with the parks. Much of the land in Western national parks is actually managed as protected wilderness, a designation that bans mechanized vehicles, which include bikes, inside those lands. And then there's the concern about biking trails intruding on proposed wilderness areas within national parks.
    According to The Wilderness Society and Public Employees for Environmental Responsibility, soon after the five-year agreement was announced last spring "an off-road biking group asked that a 25-mile bicycle trail be opened within lands recommended for wilderness designation in Voyageurs National Park."
    But there are concerns beyond bike trails infringing upon designated wilderness, proposed wilderness and Wilderness Study Areas. Put a mountain bike on any hiking trail in a national park and you're likely to encounter erosion problems and conflicts between hikers and bikers and wildlife and bikers.
    Last spring that didn't seem to be an issue with IMBA, which said it merely was interested in looking at riding opportunities on dirt roads. Now I've learned that wasn't totally accurate. Mark Eller, IMBA's communications specialist, told me the group really did have some single-track thoughts in mind when it reached agreement with the Park Service.
    "We feel comfortable, the NPS feels comfortable, with looking at the potential for trails to be opened. Those all require the environmental assessments and rule-making procedures," Eller told me from the group's Colorado headquarters.
    Already, NPS staff in Big Bend is getting ready to conduct an environmental assessment into cutting an undisclosed number of single-track mountain bike miles in their park.
    "I expect that we'll be able to start the study in a matter of weeks," John King, Big Bend's superintendent, said in the press release. "First, we'll find out if mountain biking is appropriate for Big Bend. If the results of the study are favorable, we'll move forward with a rule-making procedure that would open the way for mountain biking in non-wilderness areas."
    But with 40-some parks already allowing some form of biking, I guess one key question stands out: Why is there a need for pilot projects? According to Eller, they're needed to better inform park superintendents that mountain biking can be compatible with their stewardship mission and is a recreational option that should be considered. Wouldn't a memo have worked just as well and at a fraction of the cost?
    "I guess the best thing that we can envision right now is the opportunity for park superintendents to look at road and trail riding, mountain biking, on a park-by-park basis, rather than each park have a blanket ruling saying you shouldn't have these options, which has sort of basically been not so much written but the understood way things have been in national parks," said Eller.
    "We're hoping to get it to be where each superintendent has the authority to look at opportunities in their parks, and we feel that these pilot programs, if they're successful, are really going to open the door for that."
    While Eller did say not all national parks are compatible with mountain biking, he wouldn't tell me which ones he thought a ban should be enforced. "I'm content to say we want it to be looked at on a park-by-park basis," he said.
    IMBA has done its homework on this issue. Visit its National Park Service Resource Page and you'll find a wealth of information on existing riding opportunities in national parks, "Eight Ways Mountain Bikers Can Help the NPS," an opinion piece on "Why Mountain Biking is a National Park Conservation Solution," and even a copy of the official agreement with the NPS.
    Soon to be posted there is a national park study saying that mountain bikes create no more erosion problems than hiking "and considerably less than with equestrian use," Eller told me. "If people want to talk about mountain biking in national parks and bring up erosion, we're more than happy to discuss that topic because we feel like we have a really good handle on trail design."
    Over at the National Parks Conservation Association, Senior Vice President Ron Tipton issued a short statement in response to this news.
    "Biking is a healthy way to explore and enjoy America's national parks, but like any form of recreation, it needs to be done responsibly and in a manner that does not harm the parks. These pilot studies should carefully evaluate the capacity of existing administrative and public roads and trails to meet the needs of mountain bikes. This way, the inspiring landscapes that attract visitors are well-protected," he said.
    "Given the Department of the Interior's unpopular push to revise the Management Policies of the national parks, we'll be watching this process carefully to ensure that park managers continue to give top priority to the preservation of our national parks," added Tipton.
    It will indeed be interesting to see how these pilot projects evolve. Although, I struggle with the thought of hikers and backpackers sharing national park trails with mountain bikers. While IMBA says it doesn't want bikers to head into designated wilderness or even proposed wilderness, does that mean we'll see the day when mountain bikers peddle down a trail originally blazed for hikers, stop at the wilderness boundary and turn around?
    If that's the plan, will there need to be a staging area built at these boundaries to give the bikers space to turn around, and who will police these boundaries? Perhaps this is comparing apples and pears, but it's been well-documented that more than a few snowmobilers have gotten into trouble for ignoring wilderness boundaries.
    I enjoy mountain biking, and would love to sample the White Rim Trail one of these days. But I fear that cutting single-track bike trails in national parks -- which IMBA is intent on doing -- will create more problems than the already over-burdened landscape and Park Service can bear. And if that becomes accepted, what's next? Base jumpers would love to get into national parks, and they don't require any trees to be cut down.
    Segways have been mentioned by top Park Service officials as a reasonable means of transportation in some parks. Will we see the day when paved trails are laid down to allow them to navigate in the Grand Canyon, Yellowstone and Yosemite? After all, I can't imagine such sidewalks needing a much larger footprint than single-track bike trails.
    As more and more of today's recreational options lobby to get a toehold into the national parks, don't we threaten to slowly erode the very fabric that makes national parks so special. Is that what we want to do with our national park system? Or have we already done it?

    (Photo courtesy of Canyonlands National Park)