Planning to head to Yellowstone this winter for some XCing or snowshoeing and wondering what's the quickest way to get to Old Faithful?
    Xanterra Parks & Resorts, the park's main concessionaire, is offering express snowcoach service from West Yellowstone to Old Faithful beginning tomorrow, Dec. 21st, and continuing daily through March 10.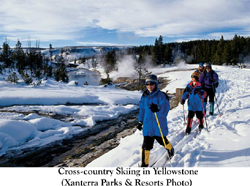 The service isn't exactly cheap -- a roundtrip ticket for adults runs $80, kids go for half that much -- but there are no stops during the two-hour trip. Coaches leave West Yellowstone daily at 7:30 a.m. and depart Old Faithful at 3:30 p.m. If you're not planning to ski or snowshoe but simply want to enjoy a winter day in the park, these trips offer an optional two-hour walking tour of the Upper Geyser Basin.
    Now, if you're a strong skier and don't want a ride all the way to Old Faithful, for $15 you can take the coach into the park and be dropped off between 7 and 14 miles from West Yellowstone and then ski back to the town. Or, for the full $80 fare, you can ask to be dropped off somewhere else along the route and ski to Old Faithful or back to West Yellowstone.