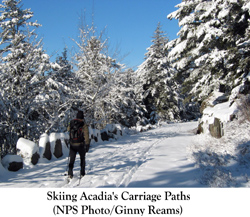 Acadia, the jewel of the Atlantic, is not only a summer destination. If you long for a quiet park that features both wave-battered seacoast and tree-lined carriage paths perfect for cross-country ski touring or snowshoe wandering along with a charmingly eclectic gateway town, this is your winter destination.
    Though most of the park's roads are closed to wheeled vehicles come winter when the snow falls, they are open to snowmobiles, even to the top of Cadillac Mountain.
    Better yet, when snowstorms descend on Mount Desert Island the park's 45 miles of carriage paths that John D. Rockefeller, Jr., paid for lure skiers and snowshoers. Sometimes locals set tracks for skiers, sometimes you just have to ratchet up your workout a notch and break trail yourself.
     Of course, when winter isn't snowy you can take to the park's hiking trails, admire the coastline, or browse Bar Harbor's shops and museums. Complimenting these possibilities is the fact that winter is Acadia's "slow season" so lodging rates are about as low as they ever go. While many of the hotels, motels and B&Bs close for the winter, there still are a good number that remain open with wonderful accommodations.
    For possibilities, call the Bar Harbor Chamber of Commerce, 207-288-5103.