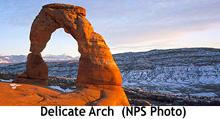 Ahh, the folks at Arches National Park are a little red-faced these days after learning that a climber had soloed to the top of Delicate Arch, one of the world's most prominent rock arches.
    Dean Potter did the dirty deed Sunday morning as the sun was rising across southeastern Utah. A professional climber supported by outdoor-wear manufacturer Patagonia, Potter claims to have studied the iconic arch for years before free-climbing to the top of the arch and rappelling down.
    Seems Potter was having so much fun that he made the climb more than once before calling it a day. Never mind the fact that park rules prohibit climbing on named arches in the park.       

    While Potter's climb was condemned by park officials, he doesn't think he did anything wrong.
    "I am very conscientious about following nature's rules," he told the Salt Lake Tribune. "I respected the arch to the fullest. I did no more than blow a little dust off a few handholds. What has our world come to if we cannot join in nature by climbing one of nature's most beautiful features?"
    Well, Dean, I can see some problems, at least for other park visitors. When the climbing ban is respected, the many park visitors who make the three-mile round-trip hike to view the arch see a work of wonder, a piece of whimsy created by erosion. Imagine if those same folks had to view Delicate Arch while it was draped with climbers.
    While I admire climbers and their skills, there are some places where they should refrain from setting hand- or toe-hold.
    As for park officials? Park Superintendent Laura Joss says she thought the park rules clearly prohibited climbing on Delicate Arch and other named arches. However, if it's not clear, she adds, "we will work with our solicitor posthaste to put a closure on Delicate Arch immediately."
    Someone else who needs to do some soul-searching are the publicity folks at Patagonia, who alerted media about Potter's climb without realizing it was against park rules.