I'll never forget the night sky that I enjoyed a few summers ago in the backcountry of Yellowstone National Park. We had paddled our canoes for two days down Yellowstone Lake, almost to the southern tip of the lake's South Arm, and found a wonderful meadow to pitch our tents in. It was early August and we were treated to a dazzling show of shooting stars courtesy of one of the annual meteor showers.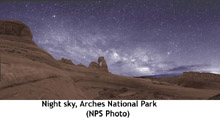 Had we not been deep in the backcountry, the star display wouldn't have been as spectacular, as artificial lighting would have dimmed the show.
    Sadly, it's getting harder and harder to enjoy truly dark nights, nights so inky that the stars stand out like an array of spotlights.
    If you're in search of one of those night shows, your best bet these days is to head to some of the West's national parks or into national forests, such as the Bridger-Teton in Wyoming.
    Recently there was a story in Science News Online about night skies and star shows. It wasn't a terribly new story, as stories about light pollution seem to cycle through the media every few years. Still, the story is one worth reading, both to appreciate the splendors of trekking to parks like Death Valley, Yellowstone, Arches or Bryce Canyon to enjoy the night skies and to raise concern over light pollution.
    Time your trip right and you'll be able to enjoy a meteor shower as I did in Yellowstone's backcountry. For instance, from late July through late August the annual Perseid's shower shoots by Earth.
    To gain more insight into dark nights in the national parks, surf over to the National Park Service's Natural Lightscapes page.