If you're interesting in lodging bargains in the national parks, this is definitely the time of year to be looking at the possibilities.
    In the West, there are discounted packages on the market for Yellowstone, Olympic, Sequoia, and Denali national parks, as well as for Canyon de Chelly National Monument.
    The Sequoia deal is actually for the rest of the winter, so if you want to head into the Sierra for some great cross-country skiing or snowshoeing, this is for you. The packages offer considerable discounts from the usual rates at Wuksachi Lodge. For instance, instead of the nightly rates around $155 available Sundays through Thursdays, you can book a room for just $79.
    Weekend rates, usually around $177, are being offered for just $99 per night. To add cross-country ski or snowshoe rentals to the deal, add $20 to the nightly rate.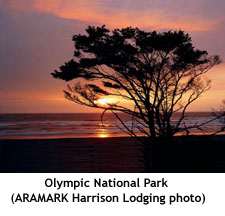 In Olympic National Park, ARAMARK Parks is offering a three-day "Trio of Treasures" package between March 1 and May 24. For $299 per couple you can spend one night at Lake Quinault Lodge, one night at Kalaloch Lodge, and one night at Sol Duc Hot Springs Resort. The concessionaire will also toss in a few souvenirs from each property. To make reservations, visit any one of the lodge's websites, which you can reach by clicking on the lodges' names.   
    Yet another lodging deal awaits those who want to head north to Denali National Park.  From May 15th through June 5th, if you book a room at one of Denali Park Resorts' four properties for $189, you get a second night free. The properties are the McKinley Chalet Resort, McKinley Village Lodge, Denali Bluffs Hotel, and the Denali Grand Lodge. For reservations, call 800-276-7234 or visit their website.
    Down at Canyon de Chelly, the Thunderbird Lodge is offering what it calls its "Magical History Tour" package. For $330 you get two nights at the lodge, continental breakfast for two, and a half-day tour of the monument. For another $45 you can have a full-day tour. For reservations, call 800-679-2473 or click on the website.
    Not to be outdone, Yellowstone National Park offers one of the best "early bird" lodging deals in the park system, although the window of opportunity is decidedly small. Here they are: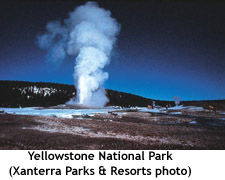 * At Mammoth Hot Springs Hotel, between May 12 and May 18 you can get a room without a private bath for $49 a night. A room with a bath goes for $79, while a suite is priced at $199.
    * At Grant Village, from May 26 to June 1 you can get a motel room for $89.
    * At the Old Faithful Snow Lodge, from May 5 through May 11th you can reserve a lodge room for $119 a night.
    *And at Lake Yellowstone Hotel, from May 19 to May 25 you can get a backside hotel room (one that doesn't face the lake, in other words) for $119 a night.
    You can book a room by calling 307-344-7311 or visiting this website.