The calendar said "October," but the temperature was closing in on 60, the water was calm, and the scenery too rich to stay off the bay. Though we had headed to California for a wedding, my wife and I carved out a free morning to head to Tomales Bay for a few hours of kayaking with Point Reyes Outdoors, an outfitter based in Point Reyes Station, a cozy, comfortable waystation just inland from the California coast. It was a morning well-spent, one we wished could have been turned into an entire weekend.
    With guides Jenn, a trained biologist who prefers paddling over being cooped up in an office or tied to a desk year-round, and Luce, a transplanted Brit, leading the way, we put in at Nick's Cove and headed out towards White Gulch on the thin peninsula that juts into the Pacific and holds the Tule Elk Reserve on its grassy shoulders. En route we paddled by Hog Island and its little sister, Piglet. Once the home of settlers, the tiny islands have been given over to harbor seals, cormorants (both Brandt's and double-breasted), brown pelicans and other waterfowl, which we actually smelled, thanks to the prevailing winds, before we spotted them.
    While the seals just gazed at us with little interest, the birds cranked up a bit of a commotion until they were satisfied we were heading elsewhere.
     
   Unlike other national park visits where we've had to share the scenery with dozens, if not hundreds, of others, we had this corner of Point Reyes National Seashore to ourselves and the wildlife. Rimmed on three sides by land, the pinched-in waters of 15-mile-long Tomales Bay were practically smooth except where our paddle blades ripped small holes in the surface as we skimmed along.
    Sea-kayaking is a joy unto itself. The ability to quietly course across a body of water with relatively little effort is serenity defined. Wildlife pay relatively little attention to you, figuring you're just another sea creature sharing the water.
    Wind was scarce this day, and any chill eaten by the calories we burned with each stroke. After passing Hog Island and its menagerie, we headed towards White Gulch, a shallow, sheltered cut in the peninsula that was favored by a band of Tule elk, a species native to the peninsula that were killed off during California's gold rush days in the mid-1800s, only to be restored to the landscape in the 1970s. Today the herd numbers roughly 400. Smaller than their Rocky Mountain cousins, and perhaps a shade lighter in color, the Tule elk in the cove glanced at us a few times as we sat on the water and returned their glances.
    Perhaps too arrogant to acknowledge our existence by fleeing, a brown pelican bobbed gently on the swells not 20 feet from our kayaks, wings shuttered close to his body and beak tucked into his chest. More skittish were the godwits, sandpipers and willets that were seeing what snacks they could uncover in the shallows. A great blue heron, definitely more uncomfortable with our presence, kept a close eye on us from his perch near the shore.
    Though the sky overhead was overcast, that actually was a bonus, as it minimized glare while our eyes searched beneath the kayaks for sea life. In the small cove at White Gulch, the bore-holes of countless ghost shrimp were easily visible, and as we slowly made our way out of the cove and north along the shore blood-red sea stars, dull-green anemones and crabs could be seen on the rocky bottom. Sunflower stars, creatures similar to sea stars but with as many as 20 arms, clung to the submerged rocks, while obstreperous belted kingfishers crisscrossed our path.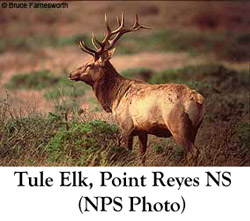 It was while scanning the bay's floor that we spied, but for a short moment, a passing bat ray. Though these sea creatures, which are related to stingrays, can have wing spans of 6 feet, this one was smaller, perhaps only 3-4 feet from wingtip to wingtip.
    Cruising on up the coastline, we passed a snowy egret looking for lunch, as well as a hummingbird enjoying some of the season's last nectar.
    It was during a snack of locally-produced Havarti cheese, fruit and crusty bread on one of the peninsula's deserted beaches that Jenn brought us up to speed, a bit, on Tomales Bay. It turns out that the 6,780-acre bay happens to be California's largest unspoiled coastal estuary. Interestingly, or perhaps disconcertingly for us at the moment, the bay sits atop the San Andreas Fault. Just as disconcerting is the fact that great white sharks have, at times, been found in the bay looking for harbor seal dinners.
     The bay also is home to a vibrant oyster farming industry, and on our return to Nick's Cove we passed some of the oyster beds and got a close-up look at the system used for raising oysters for your plate.
    Had time not demanded our presence elsewhere, it would have been easy to spend the entire weekend kayaking Tomales Bay, with overnight camps on its beaches and hiking forays into the elk reserve and bluffs overlooking the Pacific.