If I couldn't find time on a regular basis to get away into the mountains, I think I'd go nuts. I love to backpack, paddle, hike and snowshoe. These are activities that let me forget about the pressing issues of the day, focus on the scenery, and let my mind roam.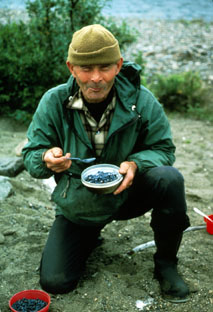 Dick Proenneke had that same burning desire, though he took it a bit farther than most of us could today. In 1967 Proenneke vanished into the Alaskan wilderness, where he used his own two hands to build a cabin that served as his home, amazingly, until 1998.
    Fortunately, for the rest of us, Proenneke left some film of his adventure.
    I first saw "Alone in the Wilderness" about a year ago on the local PBS station during one of its fund drives. This autobiographical documentary really caught my eye, in part because it captured a picturesque slice of Alaska that later would become part of Lake Clark National Park and Preserve.
    Proenneke, who built his cabin on Upper Twin Lake, not only was the consummate woodsman, being able to build a weather-tight cabin and find sustenance in the area's fish and big game as well as from his own garden, but he was a surprisingly good filmmaker. Armed with what I'm guessing was either an 8- or 16-millimeter camera, Proenneke set up the camera at great vantage points to catch himself at work, whether that work was stacking logs, cutting windows, building door hinges, planting a garden, or fishing for dinner.

     Though only 60 minutes long, the film that years later was produced by Bob Swerer Productions opens a riveting  window into one man's survival in, and relationship with, the wilderness.  For many of us, it no doubt brings to life dreams we've had.
    What kept him going for 30 years, though, is a mystery the film doesn't answer. There is a companion book, One Man's Wilderness, an Alaskan Odyssey, that was cobbled together from the journals that Proenneke diligently filled with observations of life, wildlife and nature in general. One day I hope to add it to my library and learn more about this incredible man.
    If you're looking for some escapism of your own and are curious about how one man carved a small niche in the Alaskan wilderness, I heartily recommend this film. You can learn a bit more about Proenneke at the park's website. In addition to the pdf file that that link will take you to, here's a page of photos of Dick and his cabin.
    (NPS photos)