Timing is a science.
    And when it involves staging a series of meetings to gain public input, the key, of course, is to give yourself enough time to allow the project to come together smoothly and neatly, not frenetically.
    Unfortunately, it's really beginning to appear as if not enough lead time was allocated for planning the National Park Service's listening sessions into what the general public, the taxpayers who underwrite the national park system, would like to see in terms of a celebration for the agency's centennial in 2016.
    As a result, not only will the quality of that public input likely suffer, but the agency's rank-and-file, the folks across the system who will be tasked with collecting that input and reporting back to Washington on what it touches on, will be burdened with a potentially huge task and a short period of time to get it accomplished.
    Last Friday the Interior Department announced the listening sessions would be kicked off tomorrow, March 13th, with a meeting somewhere in "eastern Tennessee."
    The whirlwind sessions -- and it is a whirlwind, one that stretches from the East Coast to Hawaii, south to Texas and north to Alaska with stops in St. Louis, Boston, San Antonio, New York City, Seattle, Denver, San Juan, Puerto Rico, San Francisco, Miami, Cleveland, Albuquerque, Atlanta, Hawaii, and Los Angeles -- wrap up March 28th with a meeting in Washington.
    While that press release stated that "additional sessions will be announced at a future date," as of today the only other sessions I've heard publicly announced are four in Alaska and another in Durango, Colorado.
    So what is the general public to make of this? The Park Service is holding a series of public listening sessions between March 13th and March 28th, a time of year when relatively few folks are focused on national parks, and a good chunk of those sessions haven't yet been announced?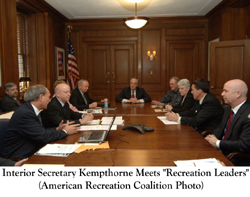 As for the Park Service field employees, I'm told that by April 3 or so the agency's regional offices are supposed to report back to Washington on what the public tells them. 
    "It is a real tight time-frame," one Park Service employee told me.
    With the scant, and late, notice of these sessions, I'm wondering what sort of turnout they'll receive. I'm also waiting to hear if there will be one in Salt Lake City. My only other options at this point are Denver or Albuquerque.
    Fortunately, the Park Service has launched a centennial web site, but you better be quick to check it out. The comment period ends April 2.
    There's one group that isn't worrying about whether its collective voice will be heard. Last week in Washington a group that included the American Recreation Coalition, The Coleman Company, The Walt Disney Company, and concessionaires Delaware North and Forever Resorts had a private meeting with Dirk and Mary.
    The topic? Why, the National Park Centennial Initiative, the president's prized (and at this point only proposed) $3 billion buffing up of the national park system, the one in which he wants private interests to pony up a third of that big bag of change.
    Over at Wild Wilderness, Scott Silver has been following the issue of privatization of the parks much, much longer than I, and he has some insights that you might want to mull while you try to guess what transpired at this meeting.
    Now, back to the listening sessions. As I mentioned above, these are supposed to wrap up by March 28th or so, and the parks that hold sessions are supposed to get their feedback to Washington by the first week of April. Between that date and May 31st a report to the president will be prepared.
    Why so little time for the listening sessions and so much for the report writing? Well, I can't answer the first part of that question, but as for the second, not only is the public expected to come up with ideas for the centennial initiative, but such stakeholders as ARC and the concessionaires will toss in their ideas, and the Park Service certainly has its own wish-list. So those two months will be needed to cull the wheat from the chafe from all the suggestions.
    It will be interesting to see what that report recommends. Hopefully it will address some of the existing problems in the national park system and not merely call for new spending for projects that the Park Service will have to figure out how to staff and maintain in the years ahead.