You won't go on terribly long hikes at Virgin Islands National Park, but there are some interesting options for when you want a day away from the beaches. One of the few trails of any significant length is Reef Bay, and though it's only about 3 miles long, it's not to be looked down upon (unless you're hiking down it).
Hikes Featured on the Traveler
Reef Bay Trail
* Mango trees, lime trees, and one of the best preserved ruins of a sugar plantation in Virgin Islands National Park are among the payoffs of the Reef Bay Trail. The steep, downhill tilt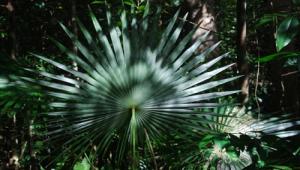 that runs for nearly the first half-mile beyond the trailhead on Centerline Road definitely catches your attention, mainly because you realize the uphill grunt that awaits your return after you've hiked down to the Caribbean.
You can read the rest of the story on this page.
Here's a glance at some other trails in the park:
Peace Hill
While the Reef Bay Trail is one of the more popular paths, a much shorter, tenth-of-a-mile trail that pays off with some great views of Trunk Bay and out into the Caribbean is the roughly 10-minute walk up Peace Hill. Found just short of 3 miles from Cruz Bay, the trail that leads up from the North Shore Road takes you to the top of a bluff where there's an old sugar mill tower. There once was a larger-than-life statue of "Christ of the Caribbean" across from the tower ruins, but Hurricane Marilyn destroyed it in 1995.
Cinnamon Bay Trail
This rambles for slightly more than 1 mile from the trailhead that you'll find about 100 yards east of the road leading to the campground. The trail winds uphill through forest along an old Danish plantation road. From where the trail meets Centerline Road, the Reef Bay Trailhead is about 1 mile to the east on the road.
Johnny Horn Trail
This trail meanders for almost 2 miles through upland forest and scrub, offering some views out to sea. The trailhead can be found at Watermelon Bay. The trail runs south across the ridges to a paved road at Emmaus Moravian Church at Coral Bay.
For more options, check out the park's hiking guide, which is attached, or stop in the visitor center when you reach Cruz Bay and ask for the guide.