When it comes to camping in Canyonlands, front-country sites are at a premium. Some appear ridiculously hard to land. That's why during most of the year you can't just arrive in the park at mid-day expecting to snag one.
Island in the Sky District
The Willow Flat campground on the Island in the Sky is just a short walk from the Green River Overlook and what some consider the finest spot to view sunsets from. Here you'll find a dozen sites, also on a first-come, first-served basis.
Sites include picnic tables, fire grates and vault toilets. No water. Maximum RV length is 28 feet. Group size limit is 10 people and 2 vehicles. Fee is $10 per night. Willow Flat typically fills every day from late March through June and again from early September to mid-October.
If you're unsuccessful landing a site here, there is a nice, 21-site campground at Dead Horse Point State Park, which lies on the route to the Island in the Sky; the 50-site Devils Garden Campground in Arches National Park, though those sites can be a devil to land, too; and a good number of campgrounds on Bureau of Land Management lands in the area. You can download a PDF of area camping possibilities here.
Needles District
Squaw Flat, perhaps the most popular campground in the park thanks to its location in the Needles Distrit, offers just 26 sites, and at last check they were all first-come, first-served. That creates problems during the height of the travel season, as you almost literally need to be circling the campground almost as soon as the sun rises hoping that someone is checking out that day and you can move in as they leave.
For some that means spending the night before in Monticello, the closest town to the Needles, and heading out at daybreak to make the not-quite-50-mile-drive to the campground. For others that means camping in the off-season, which can fall between mid-October to mid-March. The height of summer can offer some relatively easy availability, but it can get awfully hot in the park this time of year, with daytime highs approaching 100 degrees.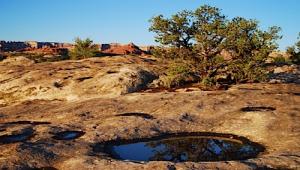 The payoff is gorgeous. Campsites set amid sandstone outcrops that provide a good measure of privacy, gorgeous vistas, and some of the darkest skies in the National Park System. And you'll also find a nice smooth road that leads you past such interesting points as Wooden Shoe, Roadside Ruin, and Pothole Point.
If you're too late for a Squaw Flat campsite, just east of the Needles entrance you'll find the Canyonlands Needles Outpost, which also offers campsites as well as gas, a store (with limited merchandise), and a small restaurant.
Squaw Flat amenities include bathrooms, fire grates, picnic tables, tent pads and water available year-round. Group size limit is 10 people and 2 vehicles. Maximum RV length is 28 feet. Fee is $15 per night.
The Needles District does offer three campsites for groups of 11 or more people that may be reserved in advance. The Squaw Flat Group Site can hold up to 50 people and 10 vehicles. The Wooden Shoe Group Site can hold up to 25 people and 5 vehicles. The Split Top Group Site can hold up to 15 people and 3 vehicles. Nightly fees are $3 per person.
Horseshoe Canyon and the Maze

There is no formal campground on the rim of Horseshoe Canyon, though there are area where you can pitch your tent, and there is a vault toilet. There also is no campground in the Maze.