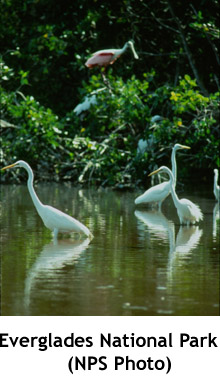 Though the Northeast got clobbered earlier this week from an unusually potent storm that dumped massive amounts of rain and snow, south Florida continues mired in an extended drought. And officials say that means they might have to shortchange the Everglades of water it needs so groundwater wells in urban areas aren't damaged by rising salt water levels.
    Maintaining a steady flow of freshwater through the ecosystem -- without major fluctuations -- has been a top priority in the massive Everglades restoration project. But officials said the 2-year-old drought is so severe that unless more freshwater is allowed to flow eastward in Palm Beach and Broward counties, wells there will start having salt water seep upward and contaminate freshwater supplies, reports the Palm Beach Post.
    What will be interesting to see if freshwater flows eastward are allowed to increase is how that might impact the Everglades' ecosystem.