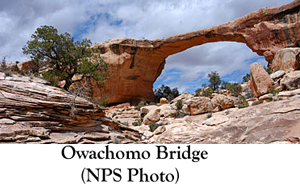 About a decade ago my wife and I made our first visit to Natural Bridges National Monument. We had just completed a backpacking jaunt into the Dark Canyon Wilderness that lies on the Colorado Plateau in southern Utah, and made a quick stop on the way home. Unfortunately, it was only a quick stop, because we had other places to be.
    The other week while on a working road-trip to southern Utah I had another opportunity to visit this national monument, and while the trip again was too short to truly appreciate Natural Bridges, it was enough to convince me this is an incredible place well-worth further exploration.
    I arrived at Natural Bridges late in the afternoon, after the small visitor center had closed, but in time to find a spot in the 13-site campground, set up camp, and enjoy the evening.
    Proof that Natural Bridges is off the beaten path was demonstrated by the fact that I was the only camper in the campground. True, it was late February, but this is southern Utah, and late February can be pretty nice, weather-wise. Indeed, the day before I enjoyed sun-soaked 60-degree temperatures. (OK, so it snowed the next day, that's just part of the allure of this season.)
    That said, I think it is safe to say the monument really is off the beaten path. It lies 4 miles north of Utah 95 between Blanding and Hanksville. Utah 95, which I would put up against Nevada's U.S. 50 as the nation's loneliest road, is known as the "Trail of the Ancients" due to the widespread presence of Anasazi, or Ancestral Puebloans, who lived on this end of the Colorado Plateau from roughly 500 to 1300 A.D.
    There are countless ruins and other artifacts of this society to be found in the landscape. Indeed, Natural Bridges counts roughly 500 archaeological sites within its borders alone. Throughout the surrounding landscape, much which is either U.S. Forest Service or U.S. Bureau of Land Management land, are literally thousands of other ruins and artifacts.
    In fact, between the NPS, USFS, and BLM holdings, this landscape counts more than 2 million acres of public lands that you're free to wander through.
    Natural Bridge's heavily-treed campground lies on a small rise near the middle of the monument. Wrapping it are two deep sandstone canyons that rushing waters sculpted over the ages. In doing so, they created three of the world's largest natural bridges -- 268-foot-wide Sipapu, 180-foot-wide Owachomo, and 204-foot-wide Kachina.
    The overhanging cliffs also house the Horsecollar Ruins, the remains of dwellings abandoned roughly 700 years ago. Tucked into the cliffs of White Canyon to provide a measure of protection from both elements and enemies, the ruins are a wonder to view, particularly when you consider how old they are.

    Now, you can easily tour Natural Bridges by driving the 9-mile loop road that provides access to overlooks of all three bridges and the ruins. But if you have the time, and you should if you made it all the way down to this remote area, a better plan of exploration would be to hike the 8.6 -mile-long loop trail that leads you down into the canyons and past all three bridges and the ruins to allow up-close inspection of these sites.
    You can start the hike at any one of the overlooks. And the way the trail was set up, you can bail out at various points if you don't want to trek the entire length. You should be in reasonable shape to make this hike, though, as some sections require you to negotiate wooden ladders.
    Summer temperatures aren't too great a concern, as the monument sits at 6,500 feet. Whereas relatively nearby Arches National Park routinely sees temperatures above 100 degrees Fahrenheit from May through October, at Natural Bridges the highest average temperature is 90 degrees in July. Still, if you head out intent to complete the entire loop, be sure to pack enough water.
    Another beauty of this monument is that it's so remote from civilization that there is practically no light pollution. As a result, on clear nights you'll enjoy some of the most incredible star shows visible anywhere in the country.