There are, in my opinion, few parks that measure up to the geologic whimsy found in Arches National Park in southeastern Utah. As the accompanying photos illustrate, this place is right out of the Flintstones.
    And now is the best time to experience this jewel. The weather is wonderful -- the highs were around 60 during my trip there last week -- and the crowds are minimal. Indeed, at times it seemed as if I had the park to myself.
    The park isn't large; at little more than 70,000 acres you can easily tour its highlights in one day, although another day or two would be great if you want to spend some time on the ground hiking through this geologic wonder.
    I'm sure many folks simply motor around on the park's main roads, glancing down Park Avenue, stopping to snap some pictures of Balanced Rock, heading to The Windows Section for a quick hike, and then driving to the Delicate Arch viewpoint rather than making the hike itself.
    And that's unfortunate, for to really appreciate this landscape it's best to sink yourself right down into it. That's the only way to feel the immensity of this place and truly grasp the geologic forces that went into building it.
    For those making their first trip to Arches, I would suggest, after a stop at the Visitor Center for a quick orientation and to top off your water bottles, that you proceed to the Courthouse Towers Viewpoint where you can leave your car for an out-and-back hike through Park Avenue. This is only a 2-mile round-trip, something that can be done in about an hour if you don't dally too much. Walking through this small canyon not only produces some jaw-drop moments, but it allows for close inspection of the native plant life that ekes out a living with scant rainfall.
    After that, and a photo at Balanced Rock, head over to the Windows Section. Here you'll find a number of arches and windows, including some you can climb up into for great photos. There's also a very short "primitive loop" that winds out behind the North and South Windows and leads you through some more native vegetation.

     The hike to Delicate Arch is one not to be missed, though if you're coming from sea level, you might want to give your lungs a day to acclimate as the hike tops out at just under 5,000 feet above sea level. Though the distance is a seemingly easy 3 miles, round-trip, you gain almost 500 feet and if you're not used to hiking the combination of elevation, distance, and grade can tax you pretty quickly.
    The hike takes you across some open slick rock, including some sections that have a steep drop-off, so if you have an issue with heights, this might not be your favorite hike. But the payoff is wonderful. Some folks who hike up there just sit around admiring the arch and the La Sal Mountains backdrop. If you're into photography, early morning, or late afternoon, are the best times for this hike.
    Perhaps my favorite hike at Arches is the one that leads you past Landscape, Navajo, Partition, and Double O arches. This one starts at the Devil's Garden Trailhead and is as long as you want it to be. Out and back to Landscape Arch is only 1.6 miles along fairly flat ground. Venture to Double O and the mileage ups to 4.2 miles round-trip. Too, the route to Double O leads you across some sandstone fins, so, again, if you struggle with heights this might not be for you.
    Now, when I head down this trail, I don't simply backtrack to the trailhead. A much more enjoyable and adventurous return is down the "primitive trail" that runs 2.2 miles and takes you through sandy washes, across sandstone fins, over slick-rock, and, basically, cross-country on the way back to Landscape Arch. Oh yeah, there's also a short side-trip to Private Arch.
    Now, the Park Service runs guided trips into the Fiery Furnace, but if you don't mind heights, have always wanted to try canyoneering, and want to experience the Furnace truly up close and personal, check out Desert Highlights and ask about their Lomatium Canyon tour. It's a trek you won't regret. And be sure to tell Matt I sent you.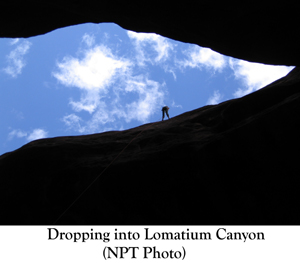 As I said up top, early spring is a fantastic time to visit Arches because of the cooler weather and the fewer people. Summer is the worst time, because temperatures can reach 100 degrees Fahrenheit and go on upwards. Late fall, after mid-September, is another favorite time for me in the park. Crowds again are beginning to wane and temperatures are moderating.
    There is no lodging in the park, so if you like a roof over your head at night you'll have to venture into Moab or perhaps try Sorrel River Ranch and Spa or the Red Cliffs Lodge; both are on Utah 128 east of the area. If you like camping, there are some nice sites at Devil's Garden in the park and plenty of sites on Bureau of Land Management ground along the Colorado River as you head east of the area on Utah 128, aka River Road.