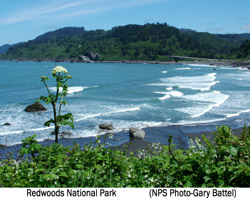 One of the worst politicians, when it comes to protecting national parks, has scored again, folks. Yep, I understand that Representative Richard Pombo, using political sleight of hand, has succeeded in slipping through legislation that authorizes motorized access to the beach in Redwood National and State Parks in California.
    His rationale? Why, surf casters shouldn't have to walk, I suppose.
    The language he inserted to a House bill pertains to "Continuation of traditional commercial surf fishing" in the park. Frankly, I've never heard of "commercial" surf fishing, and I grew up in Jersey where I spent a bit of time surf fishing. I always thought that in these modern times commercial fishing entities preferred larger-scale operations, usually those involving boats.
    Anyway, the measure provides for motorized access to "that area known as Gold Bluffs Beach, Prairie Creek, Redwoods State Park, and that portion of the beach north and south of Redwood Creek in Redwood National and State Parks."
    And here's a fun kicker he tossed in: "The permits so issued shall be perpetual..."
    Ron Sundergill, the National Parks Conservation Association's Pacific regional director, says the group tried to derail the language, but to no avail.