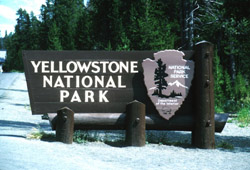 How many times have you entered a national park for the first time and immediately pulled over the car so you could snap a picture of you and your family or friends in front of the park's entrance sign?
    It happens over and over and over again every day throughout the park system. In fact, there no doubt are folks out there who have a collection of these photos, just as many other folks tote their trusty National Parks Passport from park to park to show where they've been.
    Well, if you're curious about what some of the different park entrance signs look like, Rudy D'Alessandro, an employee at NPS headquarters in Washington, has compiled a website to show off some of the signs. You can view it here.