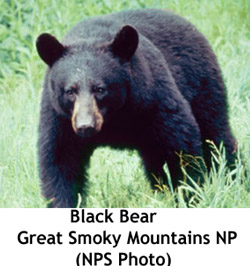 If you're heading to Great Smoky Mountains National Park this fall, keep an eye out for bears. Hungry bears in particular.
    Park officials say they expect the park's 1,600 or so bruins to be more active than usual, and that means you need to do a great job of keeping your food and garbage out of their reach.
    Kim DeLozier, the park's wildlife biologist, says the park's bear population is higher than in recent years and that the bears are hungrier than usual, too, due to poor foraging conditions.
    "There are several general indications that our bears are currently very hungry and unable to locate much natural food: First, it appears that many bears are already in poor body condition, especially those females with cubs," says DeLozier. "Secondly, the preliminary results of our annual survey of acorns and other 'hard mast' indicate that this year does not appear very positive for acorn production. Several areas surveyed showed no acorns at all and others were very sparse. Mid-summer soft mast (berries) production appeared to be off this year as well."
    As a result of these poor natural food sources, park officials fear bears will head into campgrounds looking for some of their meals.
    To help minimize conflicts, use the bear-proof boxes in the front-country campgrounds and the cable systems provided at backcountry campsites. Also, keep your distance from bears and report any bear activity in or around campgrounds or near backcountry campsites to a ranger.
    Lastly, in the remote possibility that you're attacked by one of the park's bears, fight back, don't play dead.