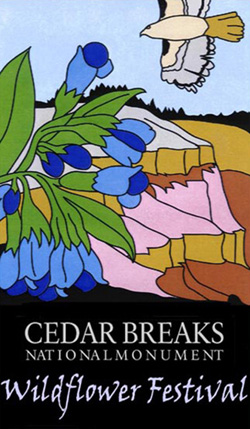 One of the things I really enjoy about life in the Rockies is the change of the seasons. Those changes don't always come about rapidly. For instance, summer usually doesn't take root until late June or even early July, and then winter can begin making appearances with snow storms in September. And of course there's usually a mid-January thaw when warm Chinook winds take a bite out of winter.
    Summer was so slow to arrive down at Cedar Breaks National Monument this year that they're just getting around to their Wildflower Festival. The festival opened on Friday, June 30th, and runs through July 16th. During the two-week run you'll be able to find wildflower specialists on duty daily at the monument located in central Utah, and there will be guided wildflower walks every day. Check it out if you're in the area. You won't be disappointed. With any luck you'll spot Aspen Bluebells, Colorado Columbine, Fireweed, Little Sunflowers, Markagunt Penstemon, Parry Primrose, Prairie Smoke and many more varieties.
    After scoping out the monument's flowers, if you have some time head east on Utah 14 into the Dixie National Forest where you'll find some of the neatest lava fields in the country. While I find these are most spectacular in the fall, when the black lava is contrasted by the golden aspen leaves, the area is really pretty gorgeous year-round.
    If you make it there, see if you can't find Mammoth Cave, where you can enter some lava tubes. Just be sure to pack a flashlight.