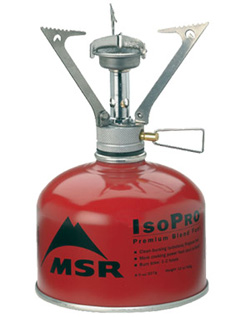 By now it's no secret that I've just about revamped all the critical components of my backpacking closet. Got a new backpack, got a new tent, and now I'm gonna tell you about my new stove.
    It's new for me, but not really new for the market. No, MSR's PocketRocket has been around, and for good reason. It's a dandy little stove. Oh, there are a few drawbacks, which I'll soon get into, but if you're looking to minimize the weight you carry, this stove is hard to beat.
    I mean, really, if you're serious about lightweight packing, how can you go wrong with a stove that weighs but 3 ounces and packs into its very own plastic cylinder, which is smaller than a banana? And it throws a mighty flame, too, one that boils a liter of water in less than 3.5 minutes.
    So what are the drawbacks?
    Well, for one you have to pack fuel canisters, either an 8-ouncer, or a 4-ouncer, or a combination thereof. Which really isn't a terribly big concern, not when you're using them to replace a liter bottle or two of white gas, which create their own weight and mess problems. But a drawback of isobutane is that it doesn't perform very well once the temp falls below freezing, so this is not a very good four-season stove.
    Another drawback, and perhaps I'm whining too much, is that the stove does not come with a wind screen of any substance. Indeed, you're even told not to jury-rig a wind screen as, I guess, it would hold heat too close to the fuel canister for your personal safety, if you catch my drift.
    My third, and final, complaint is that the stove is not the most stable. As you can see from the accompanying photo, the tripod over the burner is not by any means massive, so you'd be wise not to balance a pot of any considerable size atop it.
    But, in truth, these complaints are not substantial enough to sway me against the PocketRocket ($39.95 MSRP). The fuel canisters slip into any number of pockets on my pack and aren't messy, I'm not planning any dead-of-winter treks (and if I do I'll take my MSR WhisperLite), and the stove kicks out such a powerful flame that it cuts through the wind to boil water in near-record time.
    I thought about the JetBoil system, which is drawing many raves, but it was much heavier -- five times heavier, in fact, weighing in at 15 ounces -- and bulkier. Of course, JetBoil's Personal Cooking System negates the need for a cook kit if all you're doing is boiling water to pour into a pouch. But still, I just didn't feel comfortable with it.
    I might later eat those words, but for now, I'm thrilled with the PocketRocket.