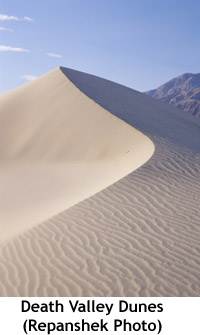 Death Valley can get brutally hot in the summer, yet for some reason not all visitors pay attention to that heat. Over the years there have been numerous stories of visitors hiking off in one direction or another and dying because they didn't carry enough water or didn't realize how debilitating the heat can be.
    Last July I visited Death Valley for my latest guidebook, and left my motel room one morning at 6 a.m. to catch the soft light the rising sun was casting across one of the park's dunes complexes. Already it was 100 degrees.
    Now, we're not even through May and already temperatures above 100 degrees are being recorded regularly in the park. That type of life-sapping heat is a suspect in the death earlier this week of a 63-year-old German visitor. She collapsed and died on the Golden Canyon Trail below Zabriskie Point about 3:30 p.m. on Monday.
    An autopsy is planned to determine the exact cause of death. The air temperature at the time was 105 degrees Fahrenheit, though the ground temp was 130 degrees.