The publicized presence of corporations in national parks is a huge issue. With federal funding extremely tight, friends groups are reaching out to corporations, as well as individuals, to help parks make ends meet. That donors continue to come forward is laudatory.
    But the question that arises, and one that's been particularly burning since the advent of Director's Order 21, is whether national parks will become billboards for their corporate donors?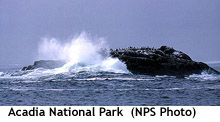 Today brought word that L.L. Bean, which already has its logo emblazoned on buses that shuttle through Acadia National Park, has created the "L.L. Bean Acadia Research Fellowship Program" with a donation of $125,000. The funding is much-needed, as there's never enough money to go around for research. But if L.L. Bean's philanthropy towards Acadia continues to grow, what, if any, impacts might that have on the park's identity, as well as its federal appropriations?
    At the Friends of Acadia, conservation director Stephanie Clement had some candid answers to those questions.
    The $125,000 will be used to underwrite $25,000 worth of research in the park for each of the next five years. The first of the grants will be doled out this year. The application deadline is March 1. You can find an application on Acadia's website. A board of scientists will select the winning proposals.
    The money is warmly welcomed by Jim McKenna, coordinator for Acadia's Schoodic Education and Research Center.
     "Just about anybody you talk to in science would say there's never enough research dollars," McKenna told me. "We've got to be creative in how we continue to fund and grow (the park's research.) ... Having corporate sponsors is an important element to that."
    How the money will be spent remains to be seen. McKenna hopes to see a broad range of proposals that will help forward Acadia's resource management program.
    "I want to use these (funds) as a way to entice researchers to come to Acadia National Park," he said.
    McKenna realizes the arms' length approach the park needs to take with donors such as L.L. Bean to ensure that science is not influenced by their funding. At the same time, the donations accomplish a substantial good, he said.
    "In a lot of ways we're selling our science," McKenna acknowledged. "But it gets our science done."
   At Friends of Acadia, Clement also recognizes the concern over corporate branding in parks, but points out that drops in federal funding have forced friends groups to become creative in finding sources to augment -- not replace --park programs.
    "This money that's coming to Acadia has enabled so many more things to happen that couldn't happen before," she told me, citing the Island Explorer shuttle buses that L.L. Bean has supported with $2.25 million since 2002.
    It's a shuttle system, Clement says, that not only has carried more than 1.8 million visitors through the park since it began operating in 1999, but one that has cut smog-causing pollutants by an estimated 10.1 tons and greenhouse gases by an estimated 6,444 tons since its inception. Plus, the company has underwritten a free shuttle system for bicyclists.
    "I think those are definite benefits that L.L. Bean has provided that we weren't able to do before," says Clement. "Ideally, the federal government would be able to cover all the costs associated with all park programs. But we haven't seen that happen. We're so pleased that L.L. Bean had a commitment to conservation and wanted to be involved with Acadia and is able to augment any programs that could be offered here at Acadia."
    But, I asked Clement, isn't there a fear that L.L. Bean's image will become too intertwined with Acadia National Park, or vice versa?

    Not only is L.L. Bean concerned about the public's perception of its work with Acadia, she replied, but "each year we do surveys on the shuttle buses and ask people what they think about the relationship with L.L. Bean, and the comments that come back are extremely positive. I would say 90 percent or more."
    Plus, continued Clement, Friends of Acadia maintains a strong relationship with Maine's congressional delegation to drive home the point that friends groups shouldn't be expected to generate enough money to supplant federal appropriations.
    "We always try to augment, not replace, park funding. The idea is that we never want to forgive Congress for the ultimate responsibility of funding the National Park Service each year," she said. "But if we can augment those, if we can help provide a margin of excellence, that's what we're all about."