Yellowstone National Park and the state of Montana long have had a public relations problem when it comes to bison. The problem stems from the animal's innate need to move to lower ground come wintertime ... and the fact that Montana represents lower ground for Yellowstone bison.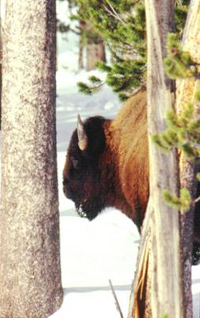 You see, some bison are carriers of brucellosis, a disease that can cause cattle to abort their unborn fetuses. (Ironically, bison originally picked up the disease from cattle.) Anyway, ranchers in southern Montana who graze their cattle within sight of Yellowstone have gotten state officials to support them in trying to halt bison from heading north into Montana. And that has caused the PR nightmare, for those efforts have led to the slaughter of hundreds of bison. Back in January, you might remember, efforts to haze bison back into Yellowstone led to the drownings of two of the animals.
    Now, in an effort to solve the problem, the Greater Yellowstone Coalition is proposing a solution.
    Amy McNamara is the GYC's national parks program director. In an op-ed piece that ran recently in the Billings Gazette she proposes that Montana officials -- notably Governor Brian Schweitzer -- work a bit harder to keep bison and cattle separate.
    Among Ms. McNamara's suggestions is that some livestock be removed from grazing allotments when bison leave the park for those areas, retire some allotments that are in bison habitat, or simply buy the allotments outright when willing sellers can be found.
    Of course, while those ideas will help keep cattle and bison apart from each other, they won't help contain Yellowstone's bison population. To that end, Ms. McNamara recognizes that hunters will have to play a role.
    "Hunting is going to be part of any long-term bison management solution," she writes. "Bison should be treated like other wildlife, including population management through hunting. It is a good thing that Montana has committed to evaluating the current hunt at the end of this season, because there's always room for improvement. However, if the state is going to expand the hunt, more habitat must be made available to bison."
    To those ideas, I'd suggest at least one more. Yellowstone officials, rather than sending bison off to slaughter, should offer bison for transplant programs. Years ago some bison from Yellowstone were used to recolonize the Henry Mountains in southern Utah.