Yellowstone National Park officially opens its winter season a bit late this year, on December 21st. That's when the roads open to snowmobile and snowcoach traffic, which, along with cross-country skis and snowshoes, are the only way to push deep into the park's interior.
   
Though summer brings the greatest visitation to Yellowstone, winter is perhaps the most fascinating season in the park. I ventured there on assignment a few years ago, and came back with the following story.
    Winter comes early to Yellowstone, a 2.2-million-acre preserve of rugged mountains, lodgepole pine forests, and 10,000-odd thermal features cradled in Wyoming's northwestern corner. Debuting before Halloween with squalls of snow and sleet that over the months grow in ferocity and frequency, the fall/winter season casts Yellowstone into a snowy realm seemingly locked in a monthslong hibernation.
    This frozen season was thought too cold, snowbound, too inhospitable to make the park a destination between October and May. But as I discovered during a January visit, come winter, the park's landscape is more captivating than during any summer stay.
    In the heavy cold of exceptionally bitter nights, Yellowstone Lake groans and shudders under the rapid formation of ice. Abundant storms thickly gild the pine forests in white and cast dunes, while aspens naked of their leaves throw stark shadows. Snow crystals shimmer with sunshine on the breezes of clear days. When darkness falls, the Northern Lights have been known to wobble across the skies.
    Growing up in New Jersey, my earliest adventures wandered through the pages of National Geographic. My most riveting trek came through the eyes of a man who "over-wintered" in the heart of Yellowstone National Park, a mystical place to a youngster whose farthest western foray at the time was to Pennsylvania. Turning the pages, I struggled to comprehend a landscape where snow falls so frequently, so deeply, that someone must shovel it from atop cabins and lodges.
    It took me a few decades, but when I first set my well-insulated feet into Yellowstone in winter, I came to understand why this man so readily agreed to such a chore. Beyond the fierce storms and temperatures that range far below zero, there's a special winter beauty difficult to fathom unless you experience it. Stand in the Upper Geyser Basin on the travertine apron before Old Faithful and you can watch eruptions spit upward of 8,400 gallons of boiling water and steam nearly 200 feet -- into the maw of a snowstorm. Walk one snow-covered boardwalk through the park and you'll marvel at intricate ice sculptures molded by cascades geysers named Grotto, Riverside and Castle.
     While the centenarian Old Faithful Inn is shuttered, a venerable log castle never intended to warmly withstand Rocky Mountain winters, the nearby Old Faithful Snow Lodge and its clutch of cabins offer more-than-adequate accommodations. This tiny village along the Grand Loop Road that navigates Yellowstone's interior is the stepping-off point for daily excursions.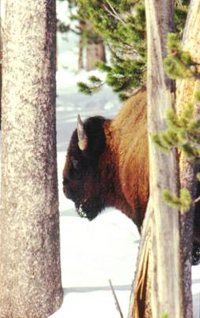 Whether you travel by snowmobile or snowcoach or don cross-country skis or snowshoes, you'll undoubtedly encounter wildlife on these trips. Most wildlife tales spill out of Yellowstone's summer months, but that's only because there are more people to experience them. There are just as many, if not more, stories born in winter as the season flushes animals to river bottoms and thermal basins.
    From late fall through late spring their goal is merely to stay put, conserve energy, survive. Come winter, "animals tend to be 'yarded up'," Steve Fuller, that winter-keeper I read about as a boy, tells me. "There tends to be a density of animals in smaller places."
    Fuller should know. He's spent more than 30 winters in Yellowstone and understands the habits of the animals. Not only are they easier to see in winter, but it's a snap to see what they've been up to, as I discover when I come upon wolf tracks and the delicate tracing of a raven's wing and tail feathers.
    "Every activity by any terrestrial animal is recorded by the snow," Fuller points out. "In summertime, we're oblivious to what walks around at night."
    Wildlife biologist Nathan Varley, who grew up in Yellowstone thanks to his dad's job with the National Park Service, would agree with Fuller. His task of tracking wolves is made easier by the elk and bison that crowd the Lamar River bottomlands in Yellowstone's northeastern corner.
    As I stand and listen to baleful howls rolling across the blanketed landscape, Varley grows excited about the possibility that the park's 200 or so wolves are generating a new pack. Shortly before 10 a.m. on that crisp morning, a lone black wolf lopes across the valley floor, stopping occasionally to tilt his snout skyward and uncork a mournful howl.
    Not a half-mile away, four bighorn sheep work over a sagebrush-studded slope for the summer's freeze-dried grasses. Behind me, across the Lamar River, a lone coyote cruises a meadow, while an American dipper ignores the cold and chirps happily away. Far off on the park's western horizon, Electric Peak earns its name as the sun ignites the 10,967-foot mountain into a tower of gold.
    Negotiating the park in winter is challenging, due to the snow. But it's also more of an adventure. At Mammoth Hot Springs I board a snowcoach – a van fitted with tank-like treads that chew into the fluff -- operated by park concessionaire Xanterra Parks & Resorts for a trip to Old Faithful. It's a slow, ponderous and bucking mode of travel. But the van doesn't bog down, fosters camaraderie with fellow travelers, and stops at a moment's notice when wildlife comes into view.
    Not far south of Norris Junction, we jerk to a halt as bison, their bearded faces veiled with ice and snow gained from plowing head-down through drifts in search of forage, mill about a meadow. Behind them the Gibbon River's open waters carry flotillas of mallards, pinheads, mergansers and other waterfowl, while a bald eagle roosts in a nearby fringe of lodgepole forest, overseeing his kingdom.
    With all this wildlife visible, you'd think the park would overflow with winter visitors. But it doesn't. While roughly 3 million tourists crowd Yellowstone each year, fewer than 100,000 dared to step into the snowbound landscape during the winter of 2003-2004. A fortunate consequence is that I'm alone one morning when I decide to ski through the Upper Geyser Basin. The snow cover is thin in the thermally-charged basin, but I manage to negotiate my skis along a thin, sinuous patch of white that leads me past the massive, steaming cone of Castle Geyser and the fluted chambers of Grotto Geyser to Morning Glory Hot Spring. 
    Although the cloudy sky overhead muffles the percolating spring's brightest blues, oranges and greens, it still shimmers colorfully in the otherwise black and white surroundings of this monochromatic season. The next morning dawns brightly, if unseasonable warm. I take advantage of the weather to kick-and-glide 2.5 miles beyond Kepler Cascades' staircase falls to Lone Star Geyser.
    The going is easy, as the pine-lined path parallels the ice-rimmed Firehole River most of the way. Standing before Lone Star, whose snout rises 10-12 feet above ground, I'm entertained by its sputtering and fussing for a half-hour or so before it fully erupts with a frothy launch of water and steam into the sky.
    Rather than retrace my tracks, I head off through the forest on a section of trail that crawls a handful of miles back to the Snow Lodge. Though my path at one point climbs steeply across the rolling terrain, the sticky, spring-like snow makes my task easy; it's almost as if I had used climbing skins on my skis.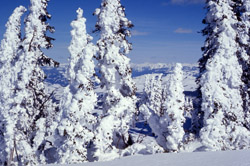 Atop the ridge, the trail winds through the woods. It was here, more than 16 years ago, that wildfires charged across Yellowstone. Their path remains defined by charred snags, many still standing amid a youthful forest that one day will completely erase signs of that conflagration.
    Before dinner I head out again for a late afternoon ski, this time to Black Sand Basin. Hundreds of people roam the basin daily in summer, but I share it with only two elk. Spouter Geyser, which carries on in a constant, agitated state of commotion, couldn't care less whether there are two or 2,000 onlookers. Where channels of water stream away from the hot springs, emerald-hued mosses hug the ground, thriving on its underlying thermal warmth.
    A day later I'm wishing I was back in the thermal basin with its thin snow cover as I break trail through knee-deep snow towards the place where the Yellowstone River gouges its own Grand Canyon through the heart of the park. It takes me a half-hour or so to snowshoe from the Grand Loop Road to the brink of the canyon's 308-foot-tall Lower Falls. There on the edge, munching on a granola bar and drinking deeply from my water bottle, I watch as spray from the thundering falls slowly thickens the icy glaze coating the canyon's walls and the closest pines.
    Not even Steve Fuller, the man who has spent 30 winters in Yellowstone, becomes bored with this landscape and its inhabitants. "Yellowstone's never grown old or bland for me," he reflects. "A lifetime isn't nearly enough time to get to know it."
    (Snow-gilded trees photo courtesy of YNP.)