A wealth of beaches makes Virgin Islands National Park an incredible destination for water lovers. Any of those beaches within the national park can quickly become a favorite to head to day after day after day during your visit, guaranteed to provide warm waters teeming with marine-life, soft, sugar-sand beaches lined by palms perfect for napping. And yet, beach hopping is encouraged, if only to explore what this park offers.
There are three main beaches promoted by the Park Service: Trunk, Cinnamon, and Hawksnest. All are located on the northern side of St. John and are easily reached via the North Shore Road. Parking quickly becomes an issue here at midday, so either arrive early or take one of the taxis.
Trunk Bay
Check out Trunk Bay. True, it's the best-known of the national park's beaches, and arguably the most-crowded, but how can you travel all the way to St. John without visiting it?
In the warm waters of the cove there's an underwater trail of sorts that makes it easy for you to identify some of the corals and fishes to be found in the park's waters. And while there's no campground, there are changing facilities and showers, picnic tables with BBQ grills, even a gift shop.
To avoid the crowds, arrive early (before 9-ish) or late (after 4). The light is great both times of the day, and you'll be able to enjoy a little more elbow room, whether you're simply sitting on the beach with a book or trying to navigate the underwater trail.
Trivia experts know that the bay was given its name by Danes who once ruled St. John thought the leatherback turtles that came ashore here to nest looked like trunks.
But don't base your entire visit around Trunk Bay. There are too many other wonderful beaches to sample.
Cinnamon Bay
This beautiful beach is just as eye-catching as Trunk Bay, with fine-grained sugar-white beaches lapped at by tourquoise waters and lined by palms that nod in the breezes.
A bonus, though, is that this beach offers the only campground in the national park, one complete with showers, kayak rentals, restaurant, even a volleyball net stashed in the vegetation lining the beach. There is also a camp store.
Call 340-776-6330 or 800-539-9998 for camping reservations.
Hawksnest Beach
This beach has changing rooms, picnic tables, grills and restrooms. It is the closest beach when driving from Cruz Bay.
But that doesn't mean that's all the beaches you can explore. Here are a few others to consider if you've got the time:
Coral Bay
On the opposite side of St. John from Cruz Bay, this bay is overlooked no doubt because of its lack of sandy beaches and the effort you need to go to to reach. The snorkeling isn't bad, but is definitely more work to get to due to parking issues, sparse beachfront, and rocks.
Great and Little Lameshur Bays
On the southwestern edge of St. John, these beaches are also difficult to reach due to the island's limited road system. You have to drive all the way to Coral Bay on the eastern side of the island and then head back west via Route 107.
When the pavement ends a twisting, snaking, roller-coaster of a dirt road takes over, one that definitely requires four-wheel-drive with good clearance. The two bays and their beautiful beaches are worth the effort, though, if you are determined to sample all that the national park offers. The snorkeling isn't bad, either, as we encountered a sea turtle here.
Maho
The next bay east of Cinnamon Bay, this beach offers a privately operated lodging operation that consists of "tent cottages" and condo-type units. There's also a restaurant here, store where you can stock up on those beach items you might have forgotten, a beach cafe, and a watersports shop.
Leinster Bay
Just east of Maho Bay, this destination requires a moderate walk through a tree-lined path to reach the beach, but it's well worth it. A little bit offshore you'll find Watermelon Cay, which just might have the best snorkeling in the park. Just be sure to swim out and around the small cay, or head off to a small rocky point on the east for the best coral reef displays. Be wary, of course, of currents.
Salt Pond
On the southwestern tip of St. John, on the way to the Lamshur bays, this beach also requires some advance planning so you can get there and claim a shady spot before the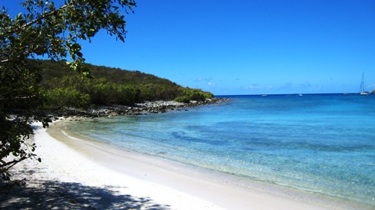 crowds arrive. The effort is worth it, though, as this is an idyllic setting, the bay is well-protected, and the reefs are colorful and teeming with marinelife. Among the fish we saw here were blue tang, sergeant majors, parrotfish, yellowtails, barracuda, trumpetfish, even a nurse shark and sea turtle. There's even a short hike here, the Ram Head Trail, that leads to a nice, although exposed, 200-foot-high overlook of the area.