The folks at Yosemite are taking another shot at putting together a "Merced Wild and Scenic River Comprehensive Management Plan and Environmental Impact Statement." If you've been paying attention, you know this isn't the first attempt at crafting a plan that will stand up in court.
    Anyway, the 60-day scoping period opened this past Friday. The entire process to develop a viable plan, from start to finish, is expected to run 33 months, with a final Record of Decision expected in September 2009.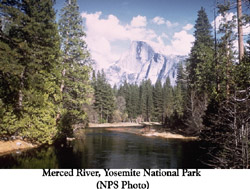 "Once completed, the Merced River Plan will guide all future activities and projects in the river corridor to ensure the protection and enhancement of the river's 'Outstandingly Remarkable Values,'" say Yosemite officials. "The plan will include a user capacity management program."
    Along with a few open houses in the Yosemite Valley (the first was March 30, another is scheduled for April 25, a third for May 30), the Park Service plans to hold public scoping meetings in San Francisco and Mariposa at dates yet to be announced.
    For more information, check out this site or call the park at 209-372-0200.