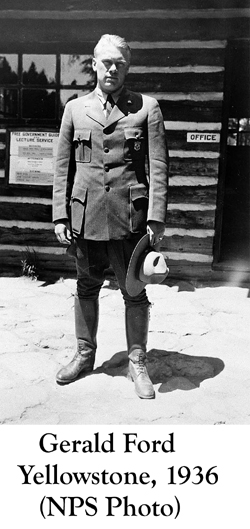 Gerald Ford, who passed away yesterday, holds the distinction of being the only national park ranger to ascend to the presidency.
    True, Ford's stint with the National Park Service was only for the summer of 1936, when he was a seasonal in Yellowstone. But the experience surely must have contributed to the man who assumed the highest office in the land when Richard Nixon resigned in 1974.
    In Yellowstone the future president worked in the Canyon Ranger District. One of his jobs was as an armed guard on the bear-feeding truck. Of course, bear feeding long ago was done away with in Yellowstone. But in 1936 it was an ongoing practice, one popular with many visitors.
     According to the Park Service, "Ford also worked in the Canyon Hotel and Lodge meeting and greeting VIPS, a job Ford complained was 'undemocratic and un-American' because it gave 'special attention to VIPs.'"
    Another task the future president had to perform was a listing of the license plate of each automobile in camp, a task that needed to be performed between 5 a.m. and 7 a.m. every morning.
    According to Wayne Repogle, Ford's roommate that summer, "the rangers had to run most of the time to get 150 to 200 licenses listed in two hours. As a football player, Ford was very fit and saw this duty as an opportunity to stay in shape."
    During his tenure as president, Ford added 18 units to the park system. Here's a listing of those additions:
    Boston National Historical Park, MA
    Big Cypress National Preserve, FL
    Big Thicket National Preserve, TX
    Clara Barton National Historic Site, MD
    John Day Fossil Beds National Monument, OR
    Knife River Indian Villages National Historic Site, ND
    Martin Van Buren National Historic Site, NY
    Tuskegee Institute National Historic Site, AL
    Cuyahoga Valley National Recreation Area, OH
    Canaveral National Seashore, FL
    Chickasaw National Recreation Area, OK
    Klondike Gold Rush National Historical Park, AK/WA
    Valley Forge National Historical Park, PA
    Ninety Six National Historic Site, SC   
    Obed Wild and Scenic River, TN
    Congaree Swamp National Monument, SC
    Eugene O'Neill National Historic Site, CA
    Monocacy National Battlefield, MD