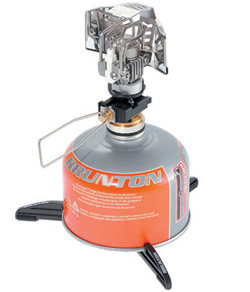 With fall quickly descending on the Northern Rockies, daylight is fading rapidly. And when you're at a backcountry campsite where wood fires are banned due to kiln-like conditions, what do you do when things fade to black by 5:30 p.m. and it's too early to crawl into your tent?
    A great solution I've discovered (and admittedly one that's been on the market for a while), is Brunton's Liberty lantern (MSRP $119).
    There are a number of pluses going for this little powerhouse. For starters, it weighs only 8.3 ounces and packs away in its own nylon carrying case. And then there's the on-board piezo electric ignition. Best, perhaps, is the fact that this unit is mantle-less. There's no glass globe you need to coddle, no mesh mantles to tear or burn out.
    The platinum element is surrounded on two sides by reflector panels that allow you to "push" the light around a bit. There's also a fuel output adjustment that enables you to burn this baby at its full 80 watts, or dial things back a bit, depending on need and conditions.
    Designed to screw onto an Isobutane canister (Brunton markets its own, although I've found MSR's work, too), the Liberty spreads plenty of light for cooking if you've arrived in camp later than expected, or for simply sitting around BSing.
    On a full 8-ounce canister the Liberty will burn up to six hours.