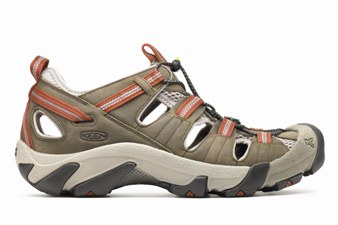 Though it's only been in business for, oh, about three years, Keen has made its tread-mark in the shoe biz. I wasn't sure what to think of the company when I first was introduced to it in 2004. There are dozens of shoe companies out there, many that focus strictly on the out-of-doors, and so what was one more?
    And then I began to notice more and more Keens on the feet of people in the national parks, in city parks, in malls. Hiking the Avalanche Creek Trail in Glacier National Park I passed a couple with Keens on their feet. Most comfortable shoe they ever wore, they proudly told me. And I began to wonder what the deal was.
    My first Keen encounter was with the Banff, a mesh-covered water shoe that I figured would be perfect for canoeing and kayaking. That encounter wasn't exactly the best, though, as the seam in heel cup nurtured a raw spot and made me retreat to my Tevas.
    And then I met the Taos, a shoe that comfortably embraced my foot and was willing to cruise just about everywhere I was headed.
    Part trail shoe, part sandal, the Taos is the most comfortable and versatile approach-type shoe I've worn. I've used it canyoneering in Arches National Park, going to dinner in Washington, D.C., and easy hiking with Rosco my pooch.
    The panel openings along the sides provide great breathability and surprisingly little room for scree and duff to infiltrate. And the non-marking Carbon Rubber soles provide great grip on slickrock. Plus, the "secure fit lace capture system," as they call it, is much more functional than traditional laces. For one, there are no laces to come untied. To tighten all you do is pull up on the cords and push down on the cord-lock. If the lacing, also referred to by the company as "bungee-style," ever fails, simply write to them and they'll send you replacements.
    While the typical Keen footbed seems roomier than most narrow feet, like mine, prefer, I was surprised with how nicely the shoes fit. In fact, I went out not too long after getting my Taos and picked up a pair of Keen's Portsmouth street shoes, which are just as comfortable.