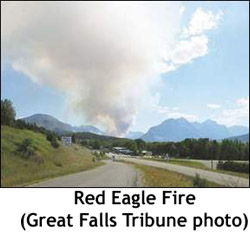 Add Glacier National Park to the list of national parks with fires burning within their borders. The Red Eagle fire was reported yesterday afternoon and is estimated to be burning along 250 acres on the east side of the park not far from St. Mary.
    Smoke has been visible from the park's St. Mary Visitor Center. You can see it yourself by checking out the park's web cam at St. Mary.
    So far the fire has forced park officials to close the Red Eagle Lake Trail from the trailhead to Triple Divide Pass, as well as the backcountry campsites at the head and foot of the lake. Fighting the fire are the park's wildland fire crew, six smokejumpers from Missoula, and three air tankers that can dump retardant on the flames.
    Park officials have issued a voluntary evacuation order for St. Mary in a bid to get the town's residents and visitors to at least begin thinking about what they would do if an evacuation became mandatory.