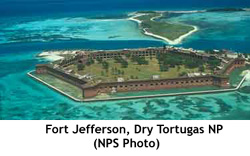 As more and more deterioration of our earth, water and air occurs, you can only hope that both the powers that be and we as a society demand that we lay a lighter hand on the Earth. And soon.
    While many inland national parks are suffering from air pollution and neighboring sprawl, our coastal parks are taking a beating as well, but from slightly different causes.
    At Dry Tortugas National Park along the southern Florida coast, a combination of storms and pollution are exacting a dire toll on the park's environment.
   
    In somewhat of an eye-opening story for Reuters, Laura Myers writes that the park's coral reefs have been battered and beaten not only by the powerful hurricanes of recent years, but also by bacteria in the ocean waters. The warming of those waters also is impacting the reefs.
    Here's one passage that speaks to the concerns being expressed over the coral reefs:
   

   With another hurricane season under way and diseases such as white plague getting an early start this year, scientists surveying the reef expressed heightened concern for the fragile corals, which are important nurseries and habitats for marine life and harbingers of the health of the seas.
    "There are some areas out here that are like a parking lot, absolutely denuded," said Dr. Jerry Ault, associate professor of marine biology and fisheries at the University of Miami's Rosenstiel School of Marine & Atmospheric Science.
    You can find Laura's entire story here.  It's definitely worth a close read, for it addresses not only the threats our national parks are struggling against, but also speaks to the issues of climate change and pollution.
    Ironically, while Laura quotes one park biologist as saying that only 13 percent of the coral reefs that once existed throughout Florida's Keys remain today, on their park web site that carries the snorkeling picture the official caption says the visitors are "diving and snorkeling amongst pristine coral reefs."
    Sounds like it's time to change the caption, no?