Back in April I talked about an ambitious vision to create a green corridor from Yellowstone to the Yukon in a bid to ensure that wildlife populations along the route aren't isolated by development. It's a noble cause, one that some day I hope becomes reality.
 
  Well, today I'm happy to tell you that a group of Montanans has successfully banded together to, in a small way, help that cause by backing not only tough new regulations that will pertain to coalbed-methane development but also to prevent urban sprawl on the doorstep of Yellowstone National Park.
    While the land-zoning regulations adopted today by the Gallatin County Commission don't create an outright ban on coalbed-methane on 23,000 acres of Bozeman Pass, they are seen as a significant step to protecting the pass, its water, and the wildlife that rely upon it to move in and out of Yellowstone.
    "The Bozeman Pass is potentially sort of a bottleneck that, if developed, could easily severe the greater Yellowstone area from wild lands to the north, so strategically (the new regulations) are really important," Dennis Glick of the Sonoran Institute told me.

    Protecting wildlife corridors is an immensely huge necessity if we as a society are to ensure that the animals within our national parks don't someday find themselves on an island, isolated from other wildlife that can help guarantee genetic diversity.
    Already, according to the National Parks Conservation Association, steady population growth and inadequate funding have combined to hamstring many parks and their wildlife. Growth not only is generating pollution, but is impinging on the wild lands necessary for survival of animals such as wolves, bears, bison and migratory species.
    As the NPCA's Laura Loomis once told me: "Many of our parks are becoming strangled, the noose being local development. When you do have development encircle a park, it has a huge impact on the natural processes that keep a park a living organism."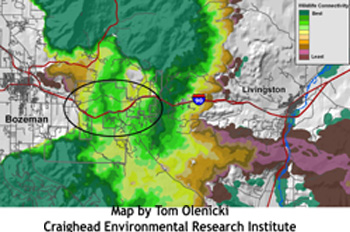 In the case of Bozeman Pass, it's critical to free movement of elk, deer, black bears, mountain lions and other wildlife in and out of Yellowstone.
    The top map, perhaps a bit hard to decipher due to the size of this blog page, shows where the pass is in relation to Yellowstone. The second map is a closeup, showing how vital the corridor is to wildlife. The legend explains that the best wildlife habitat has been colored dark green, with the worst in purple. The varying shades in between depict varying degrees of habitat.
    Today's achievement wasn't an overnight success. For four years private landowners on the pass met to discuss how they could prevent coalbed-methane development on 17,000 acres on the pass. While the pass's residents owned the surface rights, they didn't own the mineral rights. Rather, those rights belonged to an out-of-state energy corporation that was eying the rolling landscape to the east of Bozeman for its possible energy resources.
    Rather than wait to see what might happen, the pass's residents came together to see if they couldn't preserve not just the landscape but their way of life.
    "Instead of paralyzing our community, the threat of coalbed-methane drilling galvanized us," says Gray Davidson, one of the landowners. "We came together, neighbor-to-neighbor, and stuck with it for four years. We didn't agree on everything, but we forged a compromise that will protect our rural way of life and the wildlife that depend on this migration corridor."
    The achievement was made possible by a Montana law that allows communities to develop citizen-initiated zoning districts. Under the law, if 60 percent of the residents within a proposed zoning district vote in favor of it, the respective county commission must consider it.
    Well, today, the Gallatin County Commission not only considered it, but adopted it immediately.
    "The county commissioners made this citizen effort possible and they deserve enormous credit," says Barb Cestero, director of community outreach for the Greater Yellowstone Coalition. "They turned a crisis and a profound feeling of helplessness into a constructive community discussion. They made it possible for citizens to shape their future instead of allowing industrial development to be forced on the community by an out-of-state corporation."
    So, what exactly do the newly enacted regulations do? They require that any energy company study water supplies and other sensitive resources and submit operational plans for local review and approval before they drill for coalbed methane. Additionally, if the drilling project is approved, the regs require the companies involved to use best-available technology and to post a bond to pay for any needed cleanup.
    Beyond energy development, the regulations also restrict future subdivision development within the new district to an average density of one home per 80 acres in some areas and one per 40 acres in other areas.
    This dispersion has been praised by Montana's Department of Fish, Wildlife and Parks and some independent wildlife biologists as an effective tool to protect wildlife.
    As Glick, whose organization works with communities throughout the West to development sound management plans, noted above, protecting Bozeman Pass from unbridled development is crucial to keeping Yellowstone's wildlife healthy.
    "This happens to be a place that is ecologically very important," he told me.