Glacier National Park is a year closer to joining the ranks of the national park system's centenarians. On this date --May 11-- back in 1910 Glacier officially became a national park.
    The area that would later became the park was put on the map, sort of, in the early 1890s when the Great Northern Railroad laid tracks through the relatively low (5,220 feet) Marias Pass just to the south of the present-day park. Before the end of the 19th century tourists were beginning to discover the area and the Great Northern Railroad was making regular stops at Belton, now better known as West Glacier.
    Back in those days there was no road running up to, and over, Logan Pass. Instead, folks would take a stagecoach from Belton to Lake McDonald, where they'd board a boat for a short trip to the Snyder Hotel, which long ago was replaced with the present-day Lake McDonald Lodge.
    I have to admit that Glacier is one of my favorite parks. It's just so gorgeous! Here's the introduction to the park that I wrote for my new book, National Parks With Kids:
    "From the air, Glacier National Park seems almost like a layercake of blues, greys, greens and more blues jutting into the sky. Blue skies atop grey, granitic peaks atop green forests that sweep down to the shorelines of blue lakes. On the ground, though, the park towers over you as one of the most rugged landscapes in the national park system, a preserve of more than 1 million acres that isn't for the timid, yet one that offers gentle windows for peering across the roof of the Rocky Mountains."
    I spent about a week in Glacier doing research for the chapter. I rode a Red Jammer from Lake McDonald up to Logan Pass and back down, hiked to Hidden Lake above Logan Pass, trekked to Avalanche Lake and visited Many Glacier. The rugged landscape, uncluttered by buildings, is breathtaking and inviting. A week certainly is not enough time to explore this gem.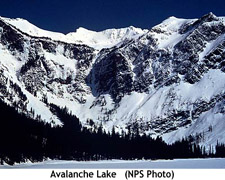 Though one might think hiking is the main attraction at Glacier, it's only one of many attractions. There are lakes to be fished and paddled or sailed across and meadows of wildflowers to marvel at. And while you might not see a grizzly bear during your visit, you can't miss the mountain goats if you travel to Logan Pass. They're incredible ambassadors for the park and not the least intimidated by people. I think I went through a 36-frame roll of film in about five minutes trying to cram as many images of the shaggy animals into my camera as possible, worried that they would wander off. They didn't. I ran out of film.
    While it's quite likely that the park's namesake glaciers will melt away by 2030, as some scientists predict, their disappearance won't diminish the park in my eyes. It's a mountainous wonderland, a great place to sling a pack upon your back and vanish into the landscape.