BAR HARBOR, Maine — Tall, tightly knit stands of fragrant spruce, fir, birch and aspen rose above the rippled waters of Eagle Lake as my wife and I pedaled across Mount Desert Island. Despite being deep within one of the nation's most visited parks, on this summer day we seemingly had its fabled carriage paths all to ourselves.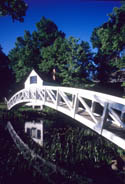 Adrift in the Atlantic Ocean a long stone's throw off the Maine coast, lobster-claw-shaped Mount Desert is a rumpled, and at times angular, landscape of granite, timber and water. The island stood up to glaciers thousands of years ago and today endures constant beatings from the Atlantic.    
    Acadia National Park, embracing most of the island's eastern half, still holds the magic I first witnessed some four decades ago when our family drove north from New Jersey to explore Maine's coast. That Acadia ranks among the nation's most visited parks, with 2.2 million visitors in 2004, is a testament to the lure of its raw beauty.
    The island's western half, better known as the "quiet side," is a pastoral landscape with a handful of charming seaside towns — Bass Harbor, Southwest Harbor and Northeast Harbor — more blue collar than touristy but with a few quaint restaurants, wonderful artisan shops and beautiful public gardens.    
    Bar Harbor is central to Mount Desert Island's draw. The artsy town (population around 4,800), is full of excellent restaurants, galleries and unique gift shops. It started life as Eden in 1797 when, as a part of Massachusetts, its charter was signed by none other than Samuel Adams. For sure, the island seemed like Eden to Thomas Cole, Frederic Church and Thomas Birch, members of the renowned Hudson River School of painters.    
    In the 1850s they arrived to sketch and paint the landscape of mountains, forests and surf. What they captured, combined with their tales of life on Mount Desert Island, lured many East Coast blue-bloods to leave their summer-hot city mansions for the island's bracing salt air.     Pulitzers, Vanderbilts and dozens of others arrived in the 1880s to build their sprawling summer "cottages" as they called them, complete with servant corps, along Eden's waterfront. It wasn't long before the Rockefellers and others arrived to stake their claims.    
    In 1918, Eden's town fathers renamed their growing burg "Bar Harbor," borrowing from a sand bar that at low tide cuts across Frenchman's Bay to tiny Bar Island. Sadly, many of the mansions were lost in October 1947 when a fire kindled in a cranberry bog west of Hulls Cove flared up and, over the course of almost a month, charred more than 17,000 acres as well as 67 "cottages" located along Millionaire's Row in Bar Harbor.        
    Some of the rich remain today on Mount Desert Island, but they're vastly outnumbered by tourists. They watch the surf pound into Thunder Hole, a rock cavity near Sand Beach that roars when storms generate huge waves. Enthusiastically, they smear fresh strawberry preserves on the oversized popovers served at the Jordan Pond House, pedal along the peaceful carriage paths the Rockefellers paid for and simply walk through the woods, along the coast or up a mountain.    
    Armed with a hiking pole and clad in a denim skirt, broad-brimmed, white hat and sensible shoes, a 67-year-old Maryland woman strode up to a rock outcrop overlooking a pond on Cadillac Mountain — at 1,532 feet, the highest point on the north Atlantic seaboard. She said she had summered in Northeast Harbor every year since she was four and made at least 20 treks up the South Ridge of Cadillac Mountain during her stays.     She stared at the sprawling blue view of Frenchman's Bay, the Atlantic Ocean and the Gulf of Maine from Cadillac's granite shoulder. "I think it has absolutely wonderful views. It's gradual going up and just gorgeous views going down," she said.    
    The Beehive, a granite crag standing over Sand Beach, is another much-loved mountain hike. A young family from St. Paul, Minn., Gail and Wayne Lundeen and their two children, 9-year-old Sienna and 7-year-old Evan, penciled Acadia into their three-week tour of New England and Canada after a little research convinced them that the park, with its forest trails, rocky coastline dotted with critter-filled tide pools and bike paths, was most assuredly "kid friendly."    
    "I like climbing the mountains," said Evan, who had little trouble negotiating the iron rungs long ago pounded into the granite by the park service to help hikers.
    Though showers, thunderstorms and banks of fog often roll across coastal Maine, that doesn't stop Mount Desert Island's visitors.

    In Somesville, a small village at the head of fjord-like Somes Sound, the Wendell Gilley Museum of Bird Carving provides a welcome diversion on a rainy day. Inside the squat, unobtrusive building is some of the work that Gilley produced during a five-decade-long career that started in the 1930s and saw him recognized as one of the country's best bird carvers. Delicately detailed owls, godwits, loons, curlews, eagles, mergansers, grosbeaks, chickadees, warblers and dozens of other tenderly carved species attest to Gilley's skill.    
    Steve Valleau was a Gilley fan who fell in love with carving as a boy when he read Gilley's book on the craft. Today Valleau is the museum's carver-in-residence, perched at a table strewn with wood chips, rasps, swatches of sandpaper and miniatures in various stages of completion where all can watch as he carves and sands and carves some more.    
    "You have to know your subject," he said, pausing from sanding the neck of a duck. "You have to have good reference material and you have to know how to paint. That's the hardest part."    
    The weather turned, fortunately, for us on the day we had scheduled a four-hour kayak journey down Blue Hill Bay past Bartlett Island, Hardwood Island and Moose Island to Seal Cove. As Kate, a college student who dreams of becoming an ethno-botanist and traveling to Zambezi, and Mike, who holds an English degree but hasn't yet figured out what to do with it, guided us and a father and his two sons through the calm waters our trip was joined by a pair of harbor porpoises, their presence revealed as they rolled their backs above the surface.    
    As we paddled, we passed countless floats that revealed the locations of lobster pots. The bobbing buoys, some painted in bars of lime and hunter green, others with oranges and reds or whites and blues and countless other schemes, are the lobstermen's equivalent of a cowboy's brand. Licensed through the state, some of the paint schemes have passed down through families for 100 years.    
    We caught up with our own lobster at Beal's Lobster Pound in Southwest Harbor, arriving just in time to meet the day's last two lobstermen coming to unload their catches.     Heading upstairs and into the kitchen, we pointed to a pound-and-a-quarter lobster huddled with dozens of others in a tank, ordered a pound of clams and watched as they were tossed into a cord-bag that was then submerged into a vat of boiling water.
    Fifteen minutes later, armed with red lobster, cooked clams, drawn butter and a bottle of wine, we retreated to a picnic table outside.     While an envious seagull kept a vigilant eye on us, we contentedly devoured our lunch.