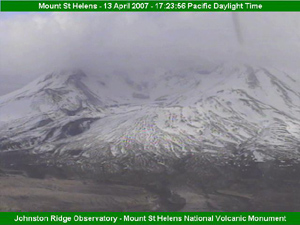 Boy, I bet Dubya never thought of this possibility when he started to squeeze the U.S. Forest Service's budget: The Park Service might get the bill.
    I mean, wasn't the plan to have the private sector rush in and take over facilities the Forest Service could no longer afford to operate? Instead, some senator suggests the Park Service rush in to the rescue.
    The case at hand involves Mount St. Helen's National Volcanic Monument. On Friday the Forest Service announced that it planned to close the monument's Coldwater Ridge Visitor Center this coming November, and to transfer the visitor center at Silver Lake to the Washington State Parks and Recreation Commission.
    In response, U.S. Senator Maria Cantwell proposed that the monument be transferred to the Park Service. As if that agency doesn't already have enough financial problems. (Perhaps it could be a signature project for the centennial initiative!)
    But the National Parks Conservation Association actually thinks the transfer is a pretty good idea.
    "The National Parks Conservation Association is deeply saddened to learn that the Forest Service will soon close or transfer ownership of two of its three Mount St. Helen's visitor centers," said Sean Smith, the NPCA's Northwest regional director. "The Forest Service is obviously stretched to the limit, and its ability to safely and adequately manage the monument is clearly in doubt. As such, we share Senator Cantwell's sentiment that it is time to consider transfer of the volcano to the Park Service."
    I guess the question, though, is how much would be gained by transferring the monument to the Park Service? As things stand under the latest announcement, there still would be four visitor centers open, albeit under the jurisdiction of entities other than the Forest Service. Would Sen. Cantwell's proposition call for all those facilities to be turned over to the Park Service as well?
    It'll certainly be interesting to see how much steam the senator's proposal generates.