For the first time in nearly a century the light is back on at the Cockspur Island Lighthouse at Fort Pulaski National Monument in Georgia.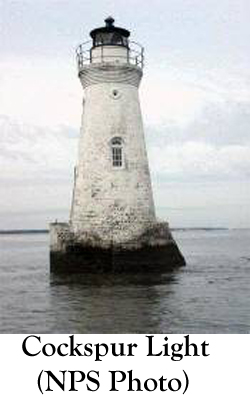 Built in 1856, the 46-foot-tall lighthouse somehow survived the Civil War Battle of Fort Pulaski on April 10-11, 1862. The light, you see, was in the line of fire between Union batteries on Tybee Island and Confederate forces inside the fort. It's estimated that more than 5,000 rounds were fired during the battle.
     The lighthouse was decommissioned June 1, 1909, when navigational changes for ships entering the Savannah River negated its need.
    The lighthouse's light, which fittingly is now solar-powered, was turned on Sunday during ceremonies.