Back in the 1950s and '60s, while the Cold War raged, uranium mining was big in south-central Utah. Very big.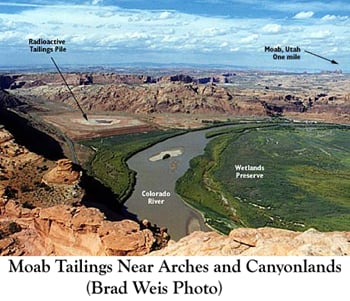 Today a massive, 130-acre pile of radioactive tailings lying along the Colorado River and pinched by Arches and Canyonlands national parks is a stark reminder of those days.
    Created by a milling operation run by a now-defunct company, the uranium tailings are not far from the entrance station to Arches. The land they occupy sidles up to the Colorado River, and some fear the wastes could pollute that river, which 25 million people in the West and Southwest rely on for drinking water.
    While the government agreed in 2005 to remove the wastes, with an eye on accomplishing the task by 2012, now officials are saying they might not be able to accomplish the job until 2028.   
    Amazing.
    During a congressional hearing earlier this week, Energy Secretary Samuel Bodman said the revised timetable was the result of his agency  having "a lot of demands on our environmental operations."
    Incredible.