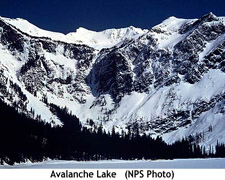 In the name of avalanche control, the Burlington Northern Santa Fe Railway wants to bomb the mountains of northern Montana with 105 mm artillery shells.
    Oh, by the way, the mountains just happen to be in Glacier National Park.
    You see, the railroad tracks skirt the park's southern boundary, which is pretty steep and mountainous and prone to avalanches. With freight trains running daily past the park, hauling upwards of 33,000 container cars a day to and from the Northwest, this is a pretty key route to keep open for commerce.
    Never mind that the landscape being targeted by the railroad is inside a national park and is home to grizzly bears -- which theoretically could be shaken from their winter's slumber by the shelling -- mountain goats, wolverines and other wildlife.
    While Glacier officials haven't signed off on this proposal just yet, they are a bit concerned about the, ahem, fallout.
    "We are concerned about the impacts on threatened and endangered species," Mary Riddle, who monitors environmental protection in Glacier, told the Washington Post. "We are also concerned about explosives going off in areas where grizzly bears den. There is not a lot of research about this."
    The railroad, naturally, is concerned about money. It maintains that the alternative to dropping bombs on Glacier -- building and maintaining snow sheds -- is too expensive.
    Read the rest of the story here and then contact your congressional representative and park officials to oppose this ridiculous plan.