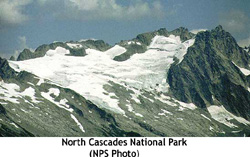 Need proof of global warming, or climate change, whichever term you prefer? Then take a look at what's going on at Mount Rainier and North Cascades national parks.
    At Mount Rainier, from 1913 to 1994 the park's glacial mass shrunk by more than a fifth. And the Nisqually Glacier, one of the park's most visible, has retreated a mile between 1912 and 2001. Upstate at North Cascades, the South Cascades Glacier has lost roughly half of its mass since 1928. Even more concerning, since the end of the Little Ice Age back in the late 1800s North Cascades probably has lost several dozen glaciers, according to park officials.
    The relatively rapid decline of these rivers of ice has folks at the U.S. Geological Survey's ice and climate project in Tacoma, Washington, understandably concerned.
    "They are the canary in the coal mine," Ed Josberger, who heads the project, says of the glaciers. "They are changing fast, and this is not good."
    You can learn more about the problem here.