The other day I was taken to task by "Sabattis" for being too hard on Fran, specifically for having the insolence to criticize her for not being more forthright with Congress over NPS funding levels.
    "Ms. Mainella is a Presidential appointee, and serves at the pleasure of the President. I am not aware of *any* Presidential appointee, in any federal agency, going to Congress and publicly flat-out saying that 'the President's budget underfunds critical needs of our agency,'" wrote Sabattis.
    He/she also wondered if there was any precedent for such behavior by an NPS director.
    You bet there is, as history has demonstrated that not all NPS directors were willing lapdogs, turning a blind eye on the national park system.   
    Perhaps the most recent example that comes to mind is Russell Dickenson, who held the job from May 15, 1980, until March 3, 1985. Dickenson had the unique distinction of being the only Interior Department bureau chief to be held over from the Carter administration by President Reagan. He also managed to survive under four different Interior secretaries.
   
A career Park Service employee who started his career as a ranger at Grand Canyon, Director Dickenson had to endure a deputy (handpicked by Interior Secretary James Watt) who worked to cut the agency's budget. However, Director Dickenson slowly managed to see his agency's construction budget boosted over the years and got Secretary Watt, President Reagan and Congress to sign off on the Park Restoration and Improvement Program, which funneled more than a billion dollars back into park resources and facilities over a five-year period.
    Director Dickenson also inoculated his park superintendents from political appointees within Interior, requiring that the appointees go through proper channels to get answers to their questions and complaints.
    At the same time, he expected his superintendents to follow the letter of the law.  When the Sierra Club in the early 1980s applied for a permit to collect signatures for their "Dump Watt" petition at Everglades National Park, the only advice Director Dickenson sent to the park was that officials make sure they issued the permit using the same criteria that they would use for any other First Amendment activity.
    Director Dickenson also oversaw what some believe to be "the most conservation-oriented rewrite of Chapter 36 of the Code of Federal Regulations," and it was done while Mr. Watt was Interior Secretary. (Chapter 36 pertains, in part, to mining and other commercial uses on public lands, including NPS lands.)
    "The rewrite was signed by the Assistant Secretary for Fish, Wildlife, and Parks, G. Ray Arnett, certainly on no one's list of environmentally friendly Assistant Secretaries," recalls Rick Smith, whose 30-year NPS career took him back and forth across the country and included a stint as the associate regional director for natural and cultural resources in the Park Service's Southwest Regional Office.
    "The rewrite was authored by Mike Finley and Maureen Finnerty in the Office of Ranger Activities.  They were smarter than the reviewers in the Department and the provisions of 36 CFR were stronger and tighter than they had been before," Smith tells me.

    Another name that stands out is that of Newton Drury, who served from August 20, 1940, through March 31, 1951, and had to endure the hardships of World War II, when the Park Service office actually was relocated from Washington, D.C., to Chicago.
    During the war Director Drury fought off most attempts to have national park resources approved for consumptive uses.
    While his office was based in Chicago, Director Drury naturally lost touch with Congress and his budget suffered. However, after World War II he was able to secure some increases ,and when the Korean conflict threatened more cuts, Drury, with the help of Horace Albright, fended them off. (Hmmmm, sounds like a scenario Fran is familiar with, and look at her reaction...)
    When Director Drury resigned in 1951, it was in large part due to his opposition to Interior Secretary Oscar Chapman's support of building dams in Dinosaur National Monument.
    And then there was George Hartzog, Jr., who served from January 9, 1964, until December 31, 1972. Early on in his tenure Director Hartzog met a congressman from an Eastern state who told the NPS director that he had no interest in the national park system. In later recalling that meeting, Hartzog wrote that, "never again would a member of Congress be able to say to a director of the National Park Service (that) 'I really have no interest in your program.'"
    Director Hartzog was fortunate in that Congress was more than willing to fund his agency. When he took over the agency its budget for park operations was $213 million, and by the time he left the Park Service it had grown to $437 million.
    When the Vietnam War forced tough times, financially, for government agencies, Director Hartzog responded by reducing the hours of operations at many parks, and closed a few, too. That got Congress's attention.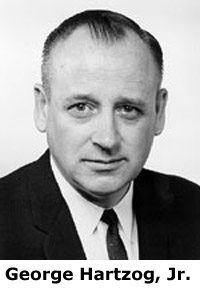 "One of the parks with reduced hours was the Washington Monument, and irate tourists who couldn't go to the top of the monument stormed their senators' and representatives' offices, conveniently located a few blocks away," is how NPS historians recount this episode. "Some in Congress, particularly Wyoming Senator Clifford Hansen, were irate that Hartzog was blackmailing them, but they voted an additional $17 million to park operations.
    "Ever since, political economists have dubbed the tactic of closing highly visible operations to get bigger budgets the 'Washington Monument strategy.'"
    With her resignation already tendered, it's probably too late for Fran to follow the lead of these gentlemen, but perhaps her successor will not be afraid to step up in defense of the national park system.