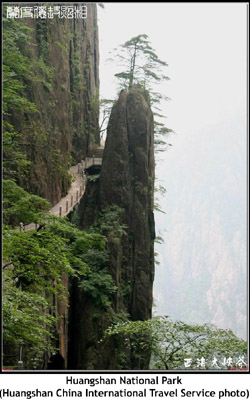 I guess China and the United States have more in common than I imagined. Last Saturday a bond was formed between Yosemite National Park and Huangshan National Park as the two became sister parks.
    The agreement was signed at the Great Hall of the People in Beijing, China, by Yosemite Superintendent Michael Tollefson and Huangshan Park Manager Cheng Yingfeng. The purpose of the agreement is to promote international cooperation that benefits the two parks, both of which feature towering granite rockscapes, waterfalls and thick pine forests.
    Just as Yosemite's landscape stirred John Muir and his passion for the national parks movement, so too has Huangshan's landscape played the muse to poets, painters and photographers. This tie recently was recognized when Matthew Adams, the grandson of Ansel Adams, presented a limited edition print of Yosemite to Mr. Cheng.